Budget deadlock between EU members overshadows jobs summit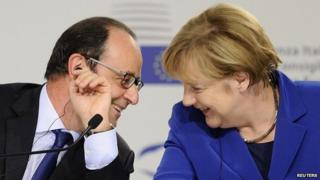 European leaders have met to discuss Europe's persistent unemployment problem but failed to reach agreement over any new strategy or new funds.
Instead they pledged to focus on spending the 6.4bn euros (£5bn) already earmarked for Europe's young jobless.
Only 12% of that original budget has been spent so far.
The leaders remained divided over whether the EU's approach to austerity should be eased.
France's President Francois Hollande and Germany's Chancellor Angela Merkel were among European leaders gathered to discuss how to create more jobs at a three-hour meeting in Milan.
It was the third summit to tackle the issue in the last 18 months.
Youth unemployment is over 40% in several European countries, while the overall unemployment rate for the 28 nation bloc stands at 11.5%.
Under the "Youth Guarantee" scheme agreed last year EU leaders adopted the aim of getting every young person into a job or training within four months of registering as unemployed.
Austerity differences
Significant differences remain over overall economic strategy, with Germany resisting pressure to ease its approach to government spending.
The EU imposes a limit of 3% on the budget deficits of member countries, limiting the amount they can spend over and above budget revenues.
France and Italy have been urging an easing of these spending restrictions to allow governments to pursue more expansionary policies, which they argue would lead to the creation of jobs.
Italy's Prime Minister Matteo Renzi, hosting the summit, said the 3% limit was now out of date.
"If we transform Europe into a commission that finds fault with the member countries, with freely elected governments, maybe we are respecting the rules of bureaucracy, but we are certainly killing the hope that politics can offer," he said.
France's President Hollande said easing austerity was the only way to encourage growth and job creation.
"If everyone practises austerity, which isn't the case with France, we'll end up with an even greater slowdown," he said.
Germany has always insisted that the EU's original tough stance on budget deficits be maintained.
Germany's Chancellor Merkel said she was "confident that everyone will meet their responsibilities."
Five million young people are out of work in the European Union out of a total of 25 million looking for jobs overall.
Outside the meeting union activists held a protest against reforms proposed by the Italian government which would make it easier for employers to sack permanent employees.