Number of UK High Street shops falls sharply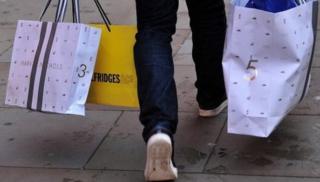 The number of shops on the High Street declined dramatically in the first nine months of this year, a survey suggests.
Town centres saw 964 net closures between January and September, two-and-a-half times the net reduction for the whole of 2013, according to the study by PwC and the Local Data Company.
The collapse of businesses such as Phones 4U and lingerie chain La Senza accelerated the decline, PwC said.
Clothing shops were among the hardest hit while betting shops thrived.
In total 365 traditional goods retailers, such as shoe and clothes shops, closed down in the first half of the year.
The number of travel agents and pawnbrokers also fell.
This was exacerbated by a dramatic reduction in the number of Albermarle & Bond shops after the pawnbroker fell into administration and had to be rescued by an investment group.
Coffee shops thrive
Conversely, the study which looked at 500 town centres, showed coffee shops, banks, pound shops, charity shops, convenience stores and American restaurants were among those opening the most outlets.
Mark Hudson, retail leader at PwC, said the survey reflected the "digital revolution" with retailers prioritising online sales over physical shops.
"We're heading for a High Street based around immediate consumption of food, goods and services or distress or convenience purchases," he added.
"I'm not sure that's what customers really want - but consumer and business economics are pointing in that direction at the moment."
Matthew Hopkinson, director of the Local Data Company, said: "Significant changes are continuing to take place across Britain's town centres.
"Multiple retailers are continuing to close stores on High Streets in favour of retail parks and shopping centres.
"The bad news is that the significant decline in chain retailer numbers in town centres seen in 2012, which then slowed in 2013, has picked up again."