Green Deal: Extra money for energy saving scheme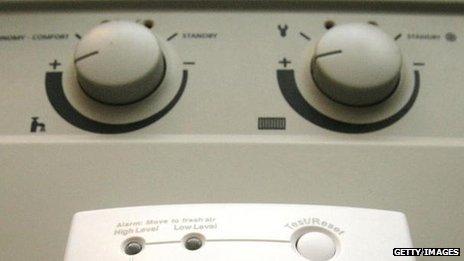 Extra funding of £100m will be found for a scheme aimed at encouraging energy saving home improvements, a minister has said.
Energy Secretary Ed Davey is announcing the extra money, for the Green Deal Home Improvement Fund, at the Liberal Democrat conference in Glasgow.
The scheme offers cashback and incentives on items such as double-glazing, insulation and boilers.
The Green Deal started slowly, but the latest round of funding was snapped up.
The first round of applications under the scheme in 2013 was criticised for being complicated and low on take-up. Despite heavy publicity, only 1,754 householders signed up.
This year, £120m was set aside for the revamped programme, with money being issued on "a first come first served" basis.
Applications were invited in June, but the scheme was closed in July after the money for the year ran out.
Now, Mr Davey is announcing extra funding, although applications are not yet open again.
John Alker, of the UK Green Building Council, said: "As temperatures start to drop and households turn up their heating, this additional funding is a timely, but ultimately temporary, solution to encouraging energy efficiency.
"This funding could see us through to the General Election, but what happens after that? All parties must recognise that home energy efficiency is an infrastructure priority, with public investment needed to support the most vulnerable and to create the confidence for the private sector to scale up investment over the long term."
The minister has also faced calls from the consumer association Which? to cut the cost of the introduction of smart meters.
A smart meter is a device that shows exactly how much gas and electricity is being used. This should bring an end to estimated bills, because the technology can send back an accurate meter reading to energy companies every day.
Companies are expected to install meters in every UK home by 2020.
A committee of MPs recently reported that the cost of installing the meters - which begins in earnest next year - would be £215 per household, or £10.6bn.
Customers will be charged an annual amount on their bills to cover the cost, peaking at £11 a year in 2017. There would be a net saving per household of £26 a year, the committee said, after the installation costs had been taken into account.
Which? wants the government to look at the idea of sourcing meters centrally, rather than suppliers organising their own plan. It has also called for a more efficient system for meter installations in blocks of flats.
"Without immediate action the cost of the smart meter roll-out is in danger of spiralling out of control, while consumers foot the bill," said Richard Lloyd, executive director of Which?.
Related Internet Links
The BBC is not responsible for the content of external sites.