Samsung Electronics forecasts 60% fall in quarterly profit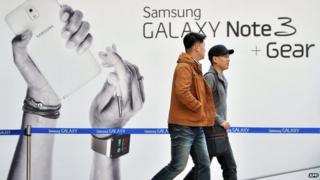 Samsung Electronics has forecast a 60% fall in quarterly operating profit from a year ago because of slowing Galaxy smartphone sales.
The world's biggest mobile phones and TV maker said it expects an operating income of 4.1tn won ($3.8bn; £2.5bn) for the three months to September.
That is below analysts' expectations for earnings of 5.2tn won.
The South Korean company will publish full financial results later this month.
Samsung's mobile division, its biggest business, has been struggling to maintain its dominance against rivals such as Apple and Chinese smartphone-makers Xiaomi and Lenovo.
Its flagship Galaxy smartphone line has been losing market share to cheaper models that also have large screens and multiple features.
The firm said quarterly sales amounted to 47tn won, which was below analyst estimates for 50.3tn won.
"Smartphone shipments increased marginally amid intense competition," Samsung said in a statement.
"However, the operating margin declined due to increased marketing expenditure and lowered average selling price."
The company also said it is "preparing new smartphone line-ups featuring new materials and innovative designs, as well as a series of new mid-to-low end smartphones".
Samsung shares rose about 1.6% in Seoul despite the weak profit outlook.
---
Analysis: Rory Cellan-Jones, BBC technology editor
Samsung has been the standout success of the smartphone era - certainly in terms of building market share, with the South Korean firm overtaking Nokia to become the world's leading phone manufacturer.
It is still holding on to the number one spot, but competition at both the top and budget ends of the market is now exerting an intense pressure on its profits.
Samsung still has around 25% of the market, down from 33% a year ago, but a trio of Chinese firms Lenovo, Huawei and Xiaomi have rapidly grabbed a big slice. It was the whole Galaxy range which propelled Samsung's profits ever higher and phones like the latest Galaxy Note 4 still get glowing reviews.
But it hasn't managed to pull off the same trick as Apple, which continues to charge luxury prices and make chunky profits on its new phones.
The recent launch of the iPhone 6 and 6 Plus is a case in point - analysts say Apple's profit margins have come down but are still above 40%.
Samsung is struggling to keep prices up at the high end, and with smartphones now becoming a commodity product it's failing to match its Chinese rivals' prices for similar phones. The competition is only going to get more intense - and it isn't clear how the Korean giant can respond.
---
Chip plant
Samsung announced on Monday that it would spend about $15bn on a new semiconductor plant in South Korea, to meet the growing demand for memory chips.
It is set to be the biggest single investment in a chip factory, and construction will begin in the first half of next year with operations due to start in 2017.
Samsung is a major chip supplier to other electronics firms, including major rival Apple.
Samsung is also facing some pressure at its consumer electronics division, which makes televisions, air conditioners and other appliances.
Sales and overall profit are forecast to have dropped because currency fluctuations made Japanese-made rival products cheaper to buy.
The Korean won strengthened about 3.5% against the Japanese yen in the third quarter.