CNN parent Turner Broadcasting to cut 10% of staff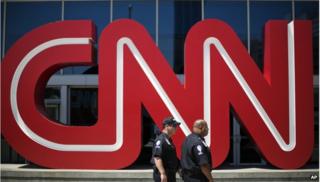 Turner Broadcasting, the parent company of CNN, is planning to cut 1,475 jobs, about 10% of its total workforce, amid declining television ratings.
Turner, which is a division of Time Warner, said the reductions were part of a reorganisation meant to refocus resources and prioritise growth.
The job cuts will apply to Turner's global properties, which include US cable channels such as TNT, TBS, and Cartoon Network.
It employs 14,000 people worldwide.
"Employees whose positions are directly impacted will be advised over the next two weeks and will be offered severance pay for transition," the company wrote in a statement.
Turner has operations in 18 locations, including Hong Kong, Mumbai and Santiago, but its headquarters in Atlanta will be the hardest hit by the cuts, with nearly 1,000 jobs set to be shed there.
Shares of Turner's owner, Time Warner, fell 1.2% in New York following the news.
Falling ratings
Turner has been trying to cope with how the digital revolution has changed how people watch television, and plans to invest in new technology and more lucrative areas, such as live sports.
Its chief executive John Martin unveiled a restructuring plan called "Turner 2020" in June, that could see the company change significantly over the next six years.
Mr Martin was appointed in January to oversee Turner, which is Time Warner's most profitable unit.
Turner's operating income rose by nearly 10% to $1.8bn (£1.1bn) in the first half, compared with the same period a year before.
But CNN, one of Turner's most famous brands, has been struggling to maintain ratings, with viewing figures at near two-decade lows.
Over the summer, Turner's owner Time Warner spurned a $17bn takeover offer from Rupert Murdoch's 21st Century Fox.
Time Warner said the offer significantly undervalued the company, and Mr Murdoch eventually withdrew his bid.