Workers taking fewer sick days, says CIPD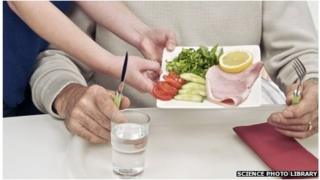 Employers say the number of days taken as sick leave fell from an average of 7.6 days to 6.6 days this year.
The report, from the Chartered Institute of Personnel and Development (CIPD), found that more of those days off were being used to care for other people, such as elderly relatives.
The CIPD also suggested that the fall in days off taken as sick did not mean workers were fitter now.
It said there was evidence that people were attending work while sick.
A third of employers said employees had struggled in to work before fully recovering from illness.
Absence levels remain higher overall in the public sector, with 7.9 days per year taken as sick leave, compared with 5.5 in the private sector.
One reason put forward by the CIPD to explain the difference is the high numbers of public sector workers such as teachers, nurses and social workers, who are face-to-face with large numbers of people. Such jobs increase the exposure to contagious diseases.
'Struggle'
More than one in three employers said absence levels had risen because staff were struggling to cope with their caring responsibilities outside of work.
The annual CIPD/Simplyhealth Absence Management survey found some employers were trying to allow for this growing trend.
Flexible working arrangements are by far the most common type of support (68%), followed by compassionate leave (53%) and (paid or unpaid) carers' leave (48%).
Two-fifths (42%) offer access to counselling services, while three in 10 offer career breaks and sabbaticals.
Dr Jill Miller, CIPD research adviser, said: "Supporting those with caring responsibilities to balance their work and home lives, and therefore retaining our talent, is a key issue. Recent... research has predicted that there will be four generations working side-by-side by 2030.
"As people have children later, and are looking after parents in the ageing baby boomer generation, they find themselves caring for both their children and their older relatives."