Euro Disney shares tumble 15% on debt financing plans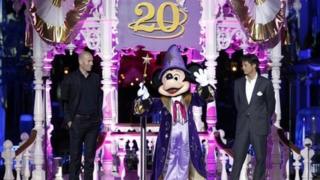 Euro Disney, which runs the Disneyland Paris theme park, has announced a 1bn-euro (£790m) refinancing in the face of falling visitor numbers and spending.
Parent company Walt Disney is injecting more than 400m euros into the business, while about 600m euros in debt is being converted to shares in the US group.
But investors balked at the news and Euro Disney shares fell 15% in early trading on the Paris stock market.
Saudi Prince al-Waleed bin Talal owns 10% of Euro Disney.
Euro Disney said on Monday that it believed a new financing package would allow it to invest in the business and boost visitor numbers.
More than 275 million visitors have been to Euro Disney since it opened in 1992, but numbers have tailed off during the economic downturn.
"Disneyland Paris is Europe's number one tourist destination, but the ongoing economic challenges in Europe and our debt burden have significantly decreased operating revenues and liquidity," said Tom Wolber, president of Euro Disney.
Existing shareholders can buy the new shares, but the Reuters news agency, quoting Euro Disney's finance director Mark Stead, said Prince al-Waleed had not yet decided whether to take up the offer.
The prince is Euro Disney's second largest shareholder after Walt Disney, which owns 40%.