Financial services see fastest growth since 2007, says CBI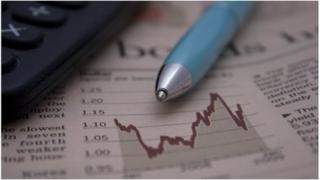 The UK's financial service sector is growing at its fastest rate since 2007, says the CBI business lobby group.
In the three months to September, 60% of firms reported greater profits.
The survey, which heard from 109 companies, found that financial services firms also added staff during the period.
It suggests these businesses have recovered from the crisis years of 2007-09, when many were forced to cut costs and jobs.
The CBI, which carried out the research with the consultancy firm PwC, expects the trend to continue in the coming months, with the majority of firms forecasting another period of rising volumes and profits.
The CBI is forecasting employment in financial and insurance activities to be just over over 1.15 million by the end of this year, 28,000 higher than the year before.
'New phase'
The biggest challenge that the firms expected in the coming year was competition.
Rain Newton-Smith, the CBI's director for economics, said: "The sector could be moving to a new phase in the recovery where firms are feeling more assured about the level of demand and are now shifting their gaze to competing for new customers and business,"
A separate report from the recruitment firm Astbury Marsden backed up the picture of an expanding financial services sector. It found financial sector firms in London created 3,470 new jobs in September, 46% more than for the same period last year.
Reflecting recent attempts to rein in the sector, many of the new roles were in compliance and regulation.
Astbury Marsden said firms were also hiring technology in response to regulatory demands for improvements to data protection systems: "The cyber-security jobs market has grown rapidly in recent months, and the banks are actively recruiting information security specialists to shore up their technology teams."