Managing the cost of children's music tuition
By Kevin Peachey
Personal finance reporter, BBC News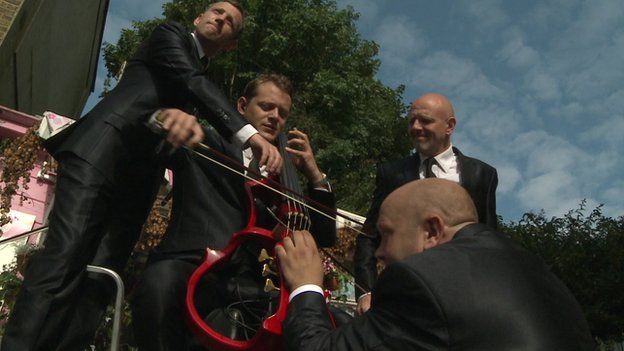 The Broadbent brothers got their big financial break before they had even learned to play a single tune.
The trio - who now make a living as professional musicians - were taught how to play their instruments by their father Alan, a violin teacher.
"I never realised how lucky I was at the time," says middle brother Ralph, 40.
That early, and free, tuition meant he was later able to pay his way through college by busking with older brother Giles, and more recently to form the electric string quartet Stringfever with Giles, youngest brother Neal, and cousin Graham.
Part of their job now, he says before tuning up for an unusual version of Ravel's Bolero, with four musicians playing on one cello simultaneously, is to inspire youngsters to take up an instrument.
But, he accepts that cost can be a prohibitive factor for families.
The mid-point in the range of fees charged by music teachers in the UK is £30 an hour, according to a survey published earlier this year by the Incorporated Society of Musicians (ISM).
That cost can quickly multiply for parents with lots of children who want to learn an instrument.
Costs can also vary across the country. The ISM survey estimates that mid-range tuition costs in central London are at £38 an hour.
Yet, 3.5 million children in the UK - some 36% of the total child population - receive private, one-to-one music lessons, according to the Associated Board of the Royal Schools of Music. Some of these will have lessons in more than one instrument.
The board says that the keyboard is the most popular instrument for children to play, followed by the piano and recorder. The electric guitar has overtaken the violin on the annual list, it says.
Despite this popularity, music tuition and other extra-curricular activities that require parents to write cheques at this time of year are largely dependent on household income.
The Sutton Trust, an education charity, says that the richest fifth of households are four times more likely to pay for classes outside school than the poorest fifth of households.
Fran Hanley, music education official for the Musicians' Union, says there are places to go for help in keeping costs down.
Talking to music teachers and asking if they give group lessons so parents can share the cost
Using a database such as MusicTeachers.co.uk to search for the tutor that suits them
Checking with their children's school to see if scholarships, cheap lessons, or cheap instrument hire are available
Going to the local music hub for information about lessons and instruments
Talking to specialist music shops about teaching in the area
There has been some highly-charged debate in the music industry, in education and in government about funding for the arts.
Some music service budgets were cut sharply when local authority music trusts were reorganised into local music hubs.
The government's aim was to target funding to the less well-off, and to close what it called a musical divide between rich and poor.
Groups such as the Sutton Trust believe that more money can be diverted to ensure that poorer youngsters can benefit from this "cultural capital".
Conor Ryan, director of research at the charity, says that this could come from the pupil premium - extra funding designed to raise the attainment of disadvantaged pupils aged from four to 16.
"We would like to see a proportion of the money that schools get [through the pupil premium] made available through vouchers for either parents or schools to enable them to buy extra lessons in subjects like music," he says.
While this debate continues, there is a chance that the cost of private music lessons could keep on rising.
The Musicians' Union says that, after quite a long period of static prices, it is recommending that its members charge £31 an hour.
This is a fair price to pay, the union says, for the services of a teacher who is a highly-trained musician. Tutors also have to pay for insurance should anything happen during a lesson, and ensure they are up to date with all the regulatory checks of working with children.
Meanwhile. parents will continue to juggle their finances, aware that the next cheque for a hobby or club will probably have to be written again soon.
Related Internet Links
The BBC is not responsible for the content of external sites.