John Lewis boss, Andy Street, apologises for French remarks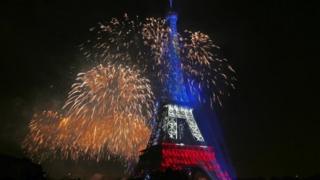 The boss of John Lewis, Andy Street, has apologised for describing France as "hopeless and downbeat" and advising people with investments there "to get them out quickly".
Quoted in The Times, Mr Street said about France that "nothing works and worse, nobody cares about it."
Mr Street later said the comments were not meant to be taken seriously but that he "clearly went too far".
He made the remarks at a dinner after his Eurostar train had been delayed.
Mr Street, who has worked for the retailer John Lewis for nearly 30 years, said London was a much more modern place.
"You get on Eurostar from something I can only describe as the squalor pit of Europe, Gare du Nord, and you get off at a modern, forward-looking station (St Pancras)," he was quoted as saying.
During his trip to Paris, John Lewis' managing director was given an award from the World Retail Congress, which he said was "made of plastic and is frankly revolting."
"If I needed any further evidence of a country in decline, here it is. Every time I (see it), I shall think, God help France," he continued at the technology award dinner.
"If you've got investments in French businesses, get them out quickly."
On Friday Mr Street issued a personal apology, saying: "The remarks I made were supposed to be light-hearted views, and tongue in cheek.
"On reflection I clearly went too far. I regret the comments, and apologise unreservedly".
'Senseless'
The French embassy in London rejected Mr Street's claims, pointing out that France has the fifth largest stock of foreign direct investment in the world, a total of €1.1 trillion ($1.1tn; £933bn).
"Obviously many foreign businesses do not seem to share Mr Street's view," a statement said.
Responding to the "nothing works" claim, the embassy said: "Everyone who has lived in France knows that it enjoys world-class public services. Public transport, for example, is excellent, and at a price that Mr Street is unlikely to find in many countries.
"People working in France enjoy one of the best healthcare systems in the world. And ultimately, workers' average productivity is higher in France than in many other developed countries," the statement continued.
"Mr Street can rest assured that the French government really cares about business! France is the fifth biggest economy in the world, the second in Europe. It would be senseless for any major international business to overlook such a market," it concluded.
The French economy has stalled recently with the French finance minister, Mr Sapin, saying recently that growth would remain weak and projecting that the economy would only grow very slightly this year.