Ferrari is unique but not untouchable, says Fiat boss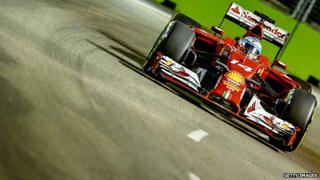 Keep a watch on the Japanese Grand Prix on Sunday to see if Ferrari's dismal Formula 1 season improves.
There's a reckoning taking place at the failing racing outfit, according to Sergio Marchionne, chief executive of Ferrari's parent company Fiat.
Mr Marchionne is taking personal charge at Ferrari, replacing long-time chairman Luca Cordero di Montezemolo, who spent 23 years at the helm.
It is a succession that raised eyebrows.
Purists fear Mr Marchionne, a numbers man and turnaround expert, has some sinister plan that would dilute the Ferrari brand and integrate it more closely into Fiat.
Speaking at the Paris Motor Show, Mr Marchionne is keen to put the record straight. Much of what has been said and written is "gibberish", he insists.
Ferrari is two operations - a racing team at the pinnacle of motorsport, and a highly-profitable road car business fulfilling the dreams of the super-rich.
But they are two sides of the same marketing coin. The divisions trade off each other's success.
'Chemistry'
"I keep being reminded that racing is not a science; that there are a number of factors that impact on performance," he says.
"And then I go to [the F1 race at] Monza and see that the first six cars are not Ferrari. And my blood pressure pops. And if it happens once, twice, then you eventually wake up and think there's a better way to do this."
Ferrari last won the F1 drivers' championship in 2007, and the constructors' title in 2008.
"Somehow the chemistry and mixture of all this has not worked," he says. "A non-winning Ferrari on a Formula 1 track is not a Ferrari. I can live with periods of bad luck, but it cannot become a structural element to the brand."
The risk is that failure on the track infects the brand name and profits of the road car division. He can't let that happen.
"We've got to go kick some arse, and we've got to do it quickly. It takes what it takes. We may screw up, but we have nothing to lose here."
And yet, the Fiat chief faces criticism that he plans to put the Ferrari brand at risk by increasing production of the road cars. That is, increase availability at the expense of exclusivity.
Not true, the former accountant insists.
Firstly, there are no plans to raise annual production from the current 7,000. Secondly, suggestions he might do otherwise come from a misunderstanding of something he said earlier this year.
Long wait
"The uniqueness of the brand is at the core of what Ferrari is," Mr Marchionne says. "We need to be religiously fanatical about the number of cars built.
"We cannot allow it to become an easily available car. It needs to be desired, and people need to wait for some time before they get their hands on a car - 7,000 is the (production) forecast and 7,000 remains the forecast."
All he was trying to say in his comments earlier this year - the ones that upset the purists - was that production cannot be set in stone forever, he says. There's a difference between being exclusive, and being unreachable.
"If you have to wait 24 months to get a Ferrari, you've waited too long. If you go out of range in terms of delivery times because 20 people are waiting for one, then I think it's crazy."
It's a balancing act that must be "continuously monitored".
Later this month, in California, Ferrari will show off a new anniversary edition car. Ten cars, at 2.5m euros (£1.96m, $3.13m) each.
"They are all pre-sold," Mr Marchionne says. "So I can go down there and do all the marketing bandwagon stuff I like. But they are sold.
"I'm not telling you we should have made 20. But I think that there is a point at which you need to make the product available."
In that respect, Ferrari is simply adjusting to the market, something the wider Fiat group has been doing for years.
'Making life impossible'
Like its rivals, Fiat was hit hard by the global downturn. Mr Marchionne embarked on a radical restructuring, and is about to merge with Chrysler, the US carmaker that itself was on the brink of collapse a few years ago.
The combined group will list on the New York stock market, taking the Italian company further away from its roots (another cause of jitters among Ferrari purists).
The Chrysler deal opens important new opportunities in the US for Fiat, reducing its dependency on the moribund European market.
Mr Marchionne has long complained about European carmakers' failure to deal with the over-capacity that has blighted the industry. There's been a "lack of will and a lack of vision in Europe," he says.
This week's profit warning from Ford and continuing losses in Europe had left the industry "reeling", he adds. "But I have never been a firm believer in the strength of Europe's economic recovery."
But there are more problems coming down the road with expectations that European regulators are preparing to toughen CO2 emissions targets on carmakers.
"My concern is that we don't keep tightening the bolts on this thing and making life impossible for carmakers. There is a limit to what the industry can take, and I think we are at the limits now.
"There are things you do in times of economic expansion and things you don't do in periods of economic contraction. You don't throw additional costs on an industry that is already struggling.
"In Europe, the economic conditions that plague this industry have not drastically improved. The profit warning from Ford should be a pretty strong signal that things are not well."