Bernanke 'couldn't refinance mortgage'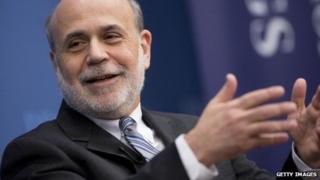 The former head of the Federal Reserve, Ben Bernanke, has had a request declined to have his mortgage renewed.
According to Bloomberg News, Mr Bernanke told a conference in Chicago: "I recently tried to refinance my mortgage and I was unsuccessful in doing so."
"I'm not making that up," he added, as the audience laughed.
He went on to suggest that banks "may have gone a little bit too far on mortgage credit conditions".
He added that the market for first-time home buyers was "not what it should be".
Mr Bernanke was chairman of the Federal Reserve between 2006 to 2014, when the current head, Janet Yellen, took over.