Fiat boss adds to gloom over European car market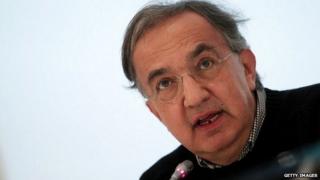 The head of the Fiat Chrysler car group says Ford's profit warning this week has sent shockwaves through the industry.
"All of us are still reeling from the effects of the Ford announcement," said chief executive Sergio Marchionne, speaking at the Paris Motor Show.
Ford's share price tumbled on Monday after the US giant warned about losses at its European division.
Mr Marchionne said: "I think there are issues that continue to plague Europe."
He said that he had "never been a firm believer in the strength" of Europe's economic recovery.
France and Germany were still at odds over some economic reform issues, he said, and "until you get a unified view about how much reform needs to be carried out... carmakers face a prolonged period of unsettled demand".
On Monday, Ford said that its European arm would lose about $1.2bn (£750m) this year, with losses narrowing to about $250m in 2015. However, after three years of losses the European division was expected to return to profit.
Mr Marchionne said that he felt the "worst was behind us" in Europe, but still expected total European car sales in 2015 to be about the same as this year.
Falling sales in Russia would continue to weigh on carmakers, he said. However, he predicted that tensions over Ukraine would be resolved in the medium term, "because the alternatives (to a settlement) are relatively ugly".
Recovery questioned
Also on Thursday, German carmaker Daimler cut its growth forecast for the global car market. Chief executive Dieter Zetsche said falling sales in Russia put the car industry's European recovery in jeopardy.
On Wednesday, Martin Winterkorn, chief executive of Volkswagen, Europe's biggest carmaker predicted that total European car sales this year would be perhaps 13.5 million at best.
He did not expect the market to ever return to the pre-crisis sales levels of 15.5 million.