ECB to start asset buying programme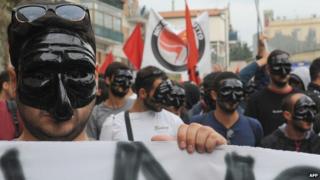 The European Central Bank has kept its benchmark interest rate at 0.05% and given details of its asset purchase programme announced last month.
The bank's head Mario Draghi said it would start buying covered bonds this month and other assets in the final three months of the year.
He said it would continue to buy assets for two years.
The bank is looking to add liquidity to the financial system, boost lending and lift flagging economic growth.
Covered bonds are those backed by public sector loans or mortgages.
The bank's rate-setting meeting is taking place in Naples, Italy, where protesters have faced riot police outside the Capodimonti Palace, where Mr Draghi is held his press conference.
Protesters expressed anger about austerity measures, unemployment and poverty.
'Unconventional instruments'
Mr Draghi did not say how much the bank would spend on buying assets, just that the programme would have a "sizeable impact on the bank's balance sheet" and would support specific market sectors.
The bank had already said it would not be buying government bonds like other central banks have done.
Mr Draghi said the programme "should ease the monetary policy stance" of the bank.
He said the bank was "committed to using additional unconventional instruments" in the future should inflation remain low for too long.
Weak outlook
Consumer price inflation in the eurozone fell to 0.3% in September, its lowest rate for almost five years and well below the ECB's target of close to, but below, 2%.
The eurozone economy was stagnant between April and June this year, with the German and Italian economies shrinking, following growth of just 0.2% in the first quarter.
Mr Draghi suggested the chances of a strong turnaround in the region's economy were slim.
"The recovery is likely to continue to be dampened by high unemployment, sizeable unutilised capacity and continued negative bank loan growth to the private sector.
"In particular, the recent weakening in the euro area's growth momentum, alongside heightened geopolitical risk, could dampen confidence and, in particular, private investment."
Analysis: Andrew Walker, economics correspondent, BBC News
Is it quantitative easing? In a sense yes, in that the ECB is going to buy financial assets with newly created money. But it differs from American, British and Japanese QE in some important aspects.
One is scale, or at least it probably is. A Reuters survey of traders showed expectations that the ECB will buy $200bn worth of these assets over a year. That is small scale compared to what the US Fed was doing
Then there is the fact that the ECB programme has a more narrowly focussed purpose: to loosen a specific bunged up market.
There's also the fact that the major QE programmes have involved buying government debt. The ECB has done a modest amount of that in the past, but it's not included in this exercise. It might, however, be on the way.