Thousands more pensioners to get help with energy bills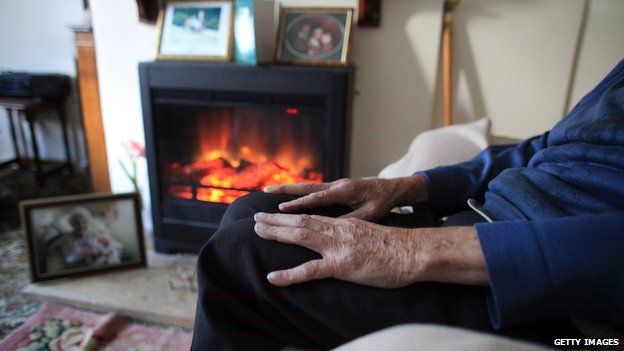 An extra 200,000 pensioners will get help with their energy bills this winter, the government has announced.
The scheme is being expanded, to include everyone who receives Pension Credit Guarantee.
Pensioner groups welcomed the move, but warned that thousands of elderly people who do not claim Pension Credit will miss out on the payments.
Hundreds of thousands of people on low incomes are also eligible to claim the discount, which in most cases is applied automatically by energy suppliers.
However many people do not get the discount, unless they ask for it.
Such households are being advised to contact their energy company directly, as eligibility criteria vary between different suppliers.
"As we approach winter, no one should have to go without heating because they can't afford to pay the bills," said Steve Webb, a minister at the Department of Work and Pensions (DWP).
But Age UK said hundreds of thousands of elderly people who do not claim Pension Credit will still not get the discount. It said a third of those eligible do not claim it.
"Clearly much more must be done to encourage these older people who need extra help the most to claim everything they are entitled to, so they don't have to struggle through the winter," said Caroline Abrahams, charity director at Age UK.
The DWP admitted that even though 1.7m pensioners will now be able to claim the discount, only 1.4m are expected to take it up.
However, a government spokesman said many people do not wish to accept benefits on principle.
The scheme, which began in 2011, is expected to cost energy firms £315m this winter.
The industry has already promised not to cut off energy supplies from vulnerable customers during the winter months.
"Ultimately the only viable long term solution for fuel poverty is to make people's homes truly energy efficient, and as quickly as possible," said Caroline Abrahams.
Related Internet Links
The BBC is not responsible for the content of external sites.