Thirst for US craft beers boosts demand for British hops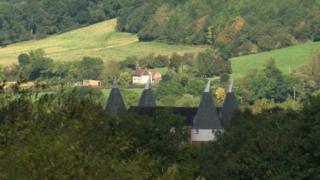 The countryside around the village of Suckley, nestling at the foot of the Malvern Hills, is studded with fields containing row upon row of ripe, lime-green hop flowers, and the curious, curved chimneys of oast houses - the old kilns used for drying hops.
At Stocks Farm, they are coming to the end of the hop-picking season. The hop is a climbing plant, which is trained to grow up strings or wires.
Teams of labourers, perched on the back of trailers drawn by tractors, pull and cut the hop stalks, or bines, from the top of overhead wires, 15ft above the ground and pile them on the trailers.
In a barn in the farm's courtyard, the bines are fed into the the huge "Bruff" hop-picker - a locally produced machine dating from 50 years ago.
The bines are fed through hundreds of metres of conveyor belt, and through a series of rotating brushes. What is left at the other end is the long, slender, short-leaved hop flower. These are dried, packed and delivered to the breweries.
In an average year, Stock's Farm produces enough hops for 46 million pints of traditional English bitter. It is one of only 50 hop farms left in the UK.
This farming sector has been in decline for decades. In 1872, there were 70,000 acres of hop fields in the UK. Now, there are only 2,500 acres. UK growers produce only 1.5% of the world's hops. The global market is now dominated by the US and Germany.
"There are two main reasons for this," says Alison Capper, who owns and runs Stocks Farm with her husband, and who is the head of the British Hop Association. "One is the rise in popularity in Britain of continental lagers. Only a fraction of the hops are used in lager as are used to make an English real ale.
"The other reason is that when Britain entered the European common market, our hop growers did not think broadly enough.
"They imagined they could go on as normal, supplying the home market, not realising that German hop growers would compete in the British market. And our hop growers never developed an export strategy to compensate for the loss of market share at home."
However, over the past four years, British hop farming has revived, helped by a surge in demand from an unexpected quarter.
Farmers found that whereas in 2009 they sold only 365 tonnes of hops, in 2013 they sold 600 tonnes. Surprisingly, half of the entire crop is now being bought in the US, by small, independent brewers who make so-called craft ales.
One of those is the Matt Brewing Company, based in Utica, in upper state New York. Its operations director, Jim Kuhr, says he is buying British hops in increasing quantities and next week will be in Britain on a buying trip.
"We use British hops like Fuggles and Goldings because they have a solid reputation. American pale ales are very heavily-hopped, and very aggressive. I like English hops because of their subtle, earthy quality. They create very drinkable beers.
"The difficulty in America is differentiating your beers from the rest, and using English hops mean we can get away from the piny, citrusy taste of most American craft ales."
Mrs Capper says there are reasons why British hops are different. "We have a maritime temperate climate, with even rainfall throughout the year," she says.
"The hops ripen slowly, and the taste is mellow. US hops are grown in north-western states like Oregon, which have hotter, drier summers. The hops ripen much quicker, and create more acid inside the flower. That's why American hops have a sharper, more pungent aroma."
The question is whether British hop farmers will be able to rely on the American market indefinitely. Will craft ale brewing continue to thrive in the US? And will the brewers continue to produce beers which require mellow British hops?
"Craft beer is still growing like a steam train in the States," says Trevor Stirling, brewing industry analyst with Bernstein Research.
"Sales were up 18% last year, when total beer sales were down 1%. There are already 2,500 craft ale breweries in America, but I think one can safely say that there are at least five years of good growth left, maybe 10.
"Craft ales are inherently more hop-heavy than regular lager. But there's a definite move in the States to dial down the strength of their beers, which boosts demand for the milder British hops.
"My only thought is: what if the Americans start growing British hop varieties themselves, and manage to replicate their flavour? That's an open question."
Whether or not British hops are assured of a market in the US in the long term, the recent surge in sales there is encouraging British hop growers to try to tap markets in other parts of the world.
"We are also trying to export British hops to brewers in East Asia - to countries like Vietnam, where a lot of Western backpackers go," says Mrs Capper. "We're suggesting they can use our hops to produce beers which appeal to Western palates."