Fancy a Snog? The frozen yoghurt firm with a cheeky name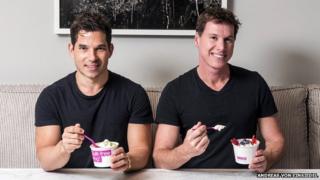 "Fancy a Snog?" is written on the bright pink business card that I'm handed as I enter Rob Baines and Pablo Uribe's house in the heart of London's Soho.
Given the area's reputation for being the centre of the capital's adult entertainment industry, it's easy to imagine something less than salubrious. But this is about frozen yoghurt.
The couple are the founders of Snog, a small chain of "fro yo" shops, which entices its customers with cheeky catchphrases such as "Less talk, more Snogging", "You'll never forget your first Snog" and "What could be more natural than a Snog?".
Their shops, furnished pop-art style in iridescent colours with rounded cartoon-like furniture, have attracted famous fans ranging from the Duchess of Cambridge to One Direction's Harry Styles.
And thanks to a deal with consumer goods giant Unilever, Snog is now selling a version of its product through supermarkets, and is on the verge of major expansion.
For Mr Baines, 50, and Mr Uribe, 45, who moved in together just a week after meeting for the first time 18 years ago, their success has justified their life philosophy to "just do it".
"In our businesses and our personal lives we just trust that it's going to be alright. If you analyse things too much it paralyses you," says Mr Uribe.
The pair practise what they preach. Mr Baines spent six years in investment banking before quitting to set up a mobile coffee unit just as his flat was in negative equity.
Similarly, Mr Uribe stopped running a successful architectural practice to concentrate on Snog.
Global expansion plans
Mr Baines says that despite the fact that the couple "row all the time", their thinking is so much in sync that the Snog board suspects they've plotted together ahead of their meetings.
Snog is the third business they've started together, following a coffee shop chain, and an architectural, interior design and property development firm.
When they started Snog in 2008 they were planning just one shop. Now the firm has 10 in the UK, mostly in London, including a pink double-decker bus on London's Southbank, as well as franchises in Pakistan and Qatar.
Its most recently available sales figures, for the financial year ending in March 2012, totalled £2.4m, though it made a £93,263 loss as it invested in expansion. Snog now plans to open more UK stores outside London, and enter Germany and the Nordic countries.
The ambitious aim, says Mr Baines, is to be the "premium global brand, the Ben & Jerry's of the frozen yoghurt world".
"We did the deal with Unilever in 2012, and the past two years have been laying the foundations for what will be a big push next year," he adds.
'Niche product'
The pair decided to start Snog after they discovered that the frozen yoghurt they'd enjoyed in New York was mainly sugar with a token amount of yoghurt, and not as healthy as they had assumed.
Yet they were already running two businesses, did they really need to complicate their lives any further?
"We just thought there is a niche to do proper frozen yoghurt, and it has not been done in London yet," says Mr Uribe. "We thought let's just try it, without really having a big macro idea of what we wanted to do."
They spent the next six months trying to create a healthier but still tasty frozen yoghurt recipe at the back of their first coffee shop.
It wasn't as easy as they'd thought, as once they had taken out the sugar it was hard to get the right taste and texture. The solution was to replace it with agave syrup, which they import from Mexico.
Having perfected the combination, they tried to open their first shop to no avail. No landlord was willing to hand over space for a concept they'd never heard of.
In the end a landlord in London's South Kensington agreed to lease the couple a shop on condition that they leased a second unit to open another of their coffee shops.
The location turned out to be a lucky choice. The area's combination of world famous museums and universities, as well as affluent residents, meant they attracted a varied crowd, and the first Snog shop was busy from the start.
'Brand guardians'
They used the cashflow they generated to slowly open more Snog branches. It was at this stage that they were approached by Unilever.
Mr Baines and Mr Uribe say they were initially cautious, but they needed Unilever's expertise to create a product with the 18-month shelf life required for a supermarket product, compared to the yoghurt sold in stores which is made up fresh each day.
They won't disclose the size of the stake they sold off, or how much they sold it for, but they remain Snog's majority shareholders.
The sale has changed their roles at the firm, and they now describe themselves as "brand guardians", helping to create and sign off the final products.
And for numbers man Mr Baines, the deal has also meant he's able to sleep a little easier.
"I'm not affected by cashflow any more," he says. "That's a side of the business I no longer have to deal with."
For Mr Uribe, who focuses on the look of the shops, it has meant compromise, in that he has been forced to spend less on interior decor, and use different suppliers as expansion ramps up.
But for them both, the main positive is that more people will get to know their brand.
"It's super exciting," says Mr Baines. "Unilever has the muscle to execute our inspiration, and what's great about it is they really want our inspiration."