UK manufacturing growth at 17-month low in September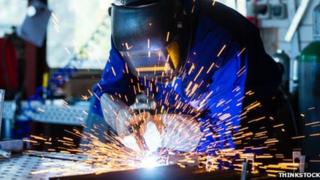 The UK manufacturing sector grew at its slowest pace for 17 months in September as a result of the strong pound and eurozone weakness, a survey has said.
The Markit UK Manufacturing Purchasing Managers' Index (PMI) fell to 51.6 in September from 52.2 in August. A figure above 50 indicates growth.
Firms reported that growth in new orders was "near stagnation".
The current sluggish growth in the eurozone contributed to exports growing at their slowest pace for 18 months.
The strength of sterling against the euro also hit sales, Markit said.
Where an increase in new export orders was reported, it reflected demand from North America, Germany, Scandinavia and the Middle East, Markit added.
The PMI survey also found that average output prices rose at the slowest pace in 15 months.
However, the number of jobs created in the industry accelerated in September, regaining most of the momentum lost in the prior month, Markit said.
'Flat picture'
David Noble, chief executive of the Chartered Institute of Purchasing & Supply (CIPS), said manufacturers were taking "a wait and see approach" to the slowdown, but that "anyone involved in supply chains will be watching carefully as we head towards the end of 2014".
Figures published by the Office for National Statistics showed on Tuesday that despite a general improvement in the UK economy, manufacturing and production, alongside construction, remained well below their 2008 output peaks.
Rob Dobson, senior economist at Markit, said: "The weakening of the manufacturing PMI data in August was cited as a major concern among the Bank of England's Monetary Policy Committee. September's disappointing reading will therefore add to the air of caution as to whether the economy is ready for higher interest rates."
Lee Hopley, chief economist at the EEF manufacturers' group, said while activity in the industry was still on the rise the pace of expansion was "clearly levelling off".
She added: "The flat picture in European markets is inevitably proving to be a drag on export demand, with manufacturing activity across the region at a 14-month low.
"Our forecasts, nevertheless, continue to show output and employment growth in the official data through the remainder of this year."
Eurozone picture
Markit's final reading of manufacturing growth in the eurozone also slowed further in September as new orders fell for the first time in more than a year as demand dwindled both at home and abroad.
Markit's final September manufacturing PMI came in at 50.3.
That was its lowest point since July 2013 and below both August's 50.7 and an earlier flash estimate of 50.5.
Factories also cut prices last month for the first time since April, while preliminary data on Tuesday showed euro zone inflation slowed further in September to just 0.3%, the lowest since the height of the financial crisis.