Free iPads as mortgage war escalates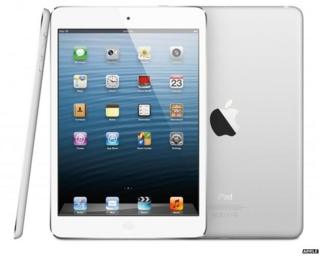 Lloyds is offering home buyers free iPad mini tablets in an intensifying mortgage war between major banks.
The £349 internet-connected Apple iPads, on offer for two months, raise the stakes in the contest for customers.
Rival lenders are promising to pay council tax bills or giving cash rebates.
However, mortgage experts are warning borrowers not to choose a loan purely on the basis of a free gift.
Lloyds says the iPads will help customers who fear being cut off from the internet while they move house.
But Pat Bunton, director of mortgage brokers London & Country, said: "Consumers shouldn't get seduced by gimmicks.
"It's more important to get the best deal and buy the iPad out of the savings from that."
House price calculator
Use our calculator to see where you can afford to rent or buy
Cash offers
Competition for mortgage business has been growing as the housing market revives.
Another spur has been the imposition of new rules forcing lenders to check more carefully whether applicants can afford to borrow.
Providers are having to work hard to woo those home buyers who pass the stricter tests.
The Leeds and Yorkshire building societies are presenting them with £1,000 cash rebates, while TSB is giving the borrower £2,500 towards the council tax bill.
Cumberland Building Society has a cash-back offer worth 4% of the mortgage advance.
At the same time, big names including Barclays, Nationwide and Halifax have reduced their fixed-rate mortgage deals.
While commentators have been debating about next year's likely increase in the Bank of England base rate, average fixed rates have been falling.
Financial information group Moneyfacts says the average two-year deal is down 0.3 percentage points to 3.16% over the last month for a borrower needing a mortgage for 75% of the property value. Five-year fixed rates have moved lower as well.
The Lloyds iPad offer might revive concerns about a return to the frenzied property market that preceded the financial crisis.
In 2004, West Bromwich Building Society's Brum Brum mortgage offered borrowers a brand new Rover 25 car.
Soon afterwards, Scarborough Building Society offered a free plasma TV to drum up business.