Sainsbury's shares drop 7% on falling sales report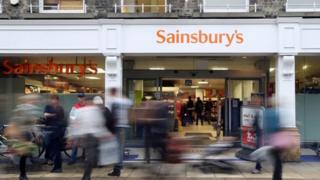 Sainsbury's shares have closed down 7% after it reported a fall in sales for the past quarter.
It said like-for-like sales, excluding fuel, in the three months to the end of September fell 2.8%, its third consecutive quarterly sales fall.
Sainsbury's added it expected sales in the second half of the year would be "similar to the first half".
Chief executive Mike Coupe blamed supermarket price wars for "deflation in many areas of our business".
Sainsbury's has already lowered prices on essential food items in an effort to compete with rivals including Asda as well as discounters Lidl and Aldi.
Challenges and opportunities
Mr Coupe, presenting his first set of figures in charge of the supermarket since taking over from Justin King in July, told BBC Radio 4's Today programme: "Clearly in the last few months the pace of change in our industry [has meant it] has changed beyond all recognition.
"Customers are shopping very differently to the way they were shopping even a year ago. So we are seeing an increase in the number of outlets available to them and they are shopping much more frequently and little and often shopping so these trends are changing very rapidly."
He added: "Clearly there are challenges in the marketplace you can't deny that but there are equally fantastic opportunities for us."
John Ibbotson, director of the retail consultancy Retail Vision, said it was increasingly clear that Mr Coupe had taken "the hospital pass just like Philip Clarke".
Price pressure
"With everyone reducing prices and food inflation low, Sainsbury's has got its work cut out. Cash-strapped consumers are reigning in on discretionary spending and increasingly deserting the big boys for the low cost discounters, or treating themselves to a premium upmarket experience in Waitrose.
"Who needs Sainsbury's, or Waitrose even, when you can get £9.99 Beluga Caviar at Aldi?"
Mr Ibbotson added: "Expect this situation to go on for years, with the low cost discounters the only winners. The only limit is how many stores they can open."
Sainsbury's said total sales, which include sales at stores open for less than a year, also fell in the quarter by 0.8%.
The like-for-like sales figures were slightly better than expected, with City analysts having forecast a fall in like-for-like sales of between 3.5% and 4%.
But Sainsbury's said the accelerated pace of change in the grocery market, and continuing pressures on prices as a result of competition, meant food prices were likely to continue falling.
It also gave a downbeat outlook of future sales, saying that like-for-like sales in the second half of the year - which includes the key Christmas trading period - would be "similar" to the first half.
Sainsbury's like-for-like sales in the first half of the year, excluding petrol, fell 2.1%.
Asked by the BBC whether about accounting standards at Sainsbury's following the news that Tesco had overstated its half year profit outlook in August, Mr Coupe, who was group commercial director before becoming chief executive said he was "100% confident about the integrity of the accounts".
The latest industry figures from retail analysts Kantar Worldpanel showed Sainsbury's market share slipped from 16.6% to 16.2%, with growth across the entire grocer sector down to a record low of 0.3%.
Asda is the only one of the so-called "Big Four" supermarkets - Asda, Tesco, Sainsbury's and Morrisons - to have held onto its market share in the past year.
On Monday, discount grocer Aldi reported a 36% surge in sales for 2013 and a 65% rise in pre-tax profits to £260.9m.
Poster 'mistake'
Sainsbury's sales figures come a day after the embarrassing revelation that a poster encouraging staff to get customers to spend more was put up in a store window in error.
The sign, urging staff to get people to spend an extra 50p, appeared in Stratford, east London on Monday.
Mr Coupe admitted to the Today programme it was "clearly a mistake" that the poster was put in the store window.
But he added: "It wouldn't be surprising that we encourage our staff to sell to our customers. If we do a great job for our customers they will spend more."