Virgin asks Ofcom to probe Premier League TV costs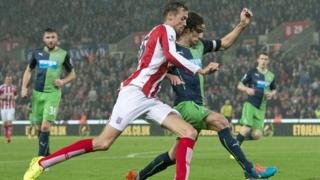 Virgin Media has asked broadcast regulator Ofcom to open an investigation into the way that the Premier League sells the TV rights to its live football games.
The cable firm says the auction process is driving up prices for fans and causing "significant consumer harm".
Ofcom said it was "considering" the complaint.
The Premier League said its audio-visual rights had "always been sold in a transparent and open process".
"Regulators have examined our rights packaging and sales process in considerable detail in the past and found both of them to be compliant with UK and European competition law," it added in a statement.
Price rises
Earlier this year Virgin Media, owned by Liberty Global, said it did not plan to bid in the next auction.
However, Virgin says it is still affected because it has to pay higher prices to buy the sports channels from BSkyB and BT.
"UK fans pay the highest prices in Europe to watch football on TV," said Virgin Media's chief corporate affairs officer Brigitte Trafford.
BSkyB and BT currently share the rights to televise the Premier League football games.
The price for the latest rights deal - covering 2013-16 - rose 70% to £3bn when it was announced in 2012.
Virgin Media filed its complaint to Ofcom earlier this month.
Ofcom said it would take about eight weeks to consider the complaint "before deciding whether any further action is required".