Annual house price growth slows to 9.4%, Nationwide says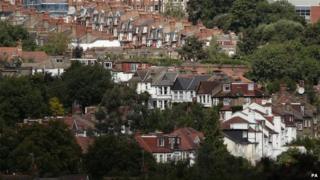 The annual rate of house price growth slowed in September to 9.4% from 11% the month before, the Nationwide says.
On a monthly basis, prices were down by 0.2% - the first time that figure has fallen since April 2013.
It said strong regional variations remained, with London and the South continuing to lead the market.
Prices in London are 31% above those reached at the last peak of the market in 2007. Elsewhere, prices are just 1% above pre-crisis levels.
Nationwide says average house prices across the UK have fallen to £188,374.
The average price of a house in London is £401,072.
The interactive content on this page requires JavaScript
'Uncertain' outlook
The data comes in the week that the Bank of England will announce whether to implement new measures to control house prices - and whether to change the rules for the government's Help to Buy programme.
Even though the monthly figures show house prices falling, they still rose by 1.5% over the quarter.
Robert Gardner, the Nationwide's chief economist, said: "While September saw a slowing in house price growth, the picture on a quarterly basis (July, August and September combined) was still relatively strong, with all thirteen UK regions recording annual price gains."
Mr Gardner said that prices were expected to continue rising in the final months of the year, but this could be at a slower rate.
He said: "The outlook remains uncertain. There have been tentative signs from surveyors and estate agents that buyer demand may be starting to moderate, but the low level of interest rates and strong labour market suggest that underlying demand is likely to remain robust."