Former Morrisons executive charged with insider dealing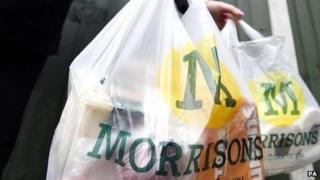 The former treasurer and head of tax at supermarket group WM Morrison has been charged with insider dealing.
The UK's financial regulator, the Financial Conduct Authority (FCA), said it had charged Paul Gerard Coyle with two offences of insider dealing.
It said the offences related to trading in Ocado group shares between February and May 2013. The two firms announced a £200m distribution deal in May.
Mr Coyle was suspended from Morrisons in January.
Ocado shares surged in May, when the online food retailer said it had secured an agreement with Morrisons to deliver goods ordered online by the supermarket's customers.
The FCA and its predecessor, the Financial Services Authority, have tried to clamp down on insider dealing after accusations that the offence was widespread.
On Monday, the FCA said it had now secured 24 convictions in relation to insider dealing, and was also currently prosecuting eight other individuals for the same offence.