Australian winemaker TWE shares drop as firm rejects offers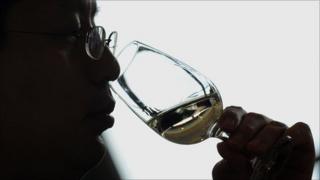 Shares in the world's biggest listed winemaker, Australia's Treasury Wine Estates (TWE), have plunged after it rejected two separate multi-billion takeover offers.
TWE said that the two offers - both worth A$5.20 (£2.80) a share or A$3.4bn (£1.88bn) - "undervalued the company".
One of the bids was from US private equity giant KKR and partner Rhone Capital, with the second from an unidentified firm.
TWE shares fell 13%.
"It is now apparent to the company that the bidders are not able to support a transaction on terms and at a price acceptable to the board," TWE added.
TWE said it had discussed the offer with shareholders holding around 50% of the firm's shares.
The firm owns brands such as Wolf Blass, Rosemount and Lindeman's.
It is also behind Australia's most recognised winemaker, Penfolds.
TWE chief executive Mike Clarke, who took the helm in March, said on a call with reporters that the potential deals would have involved higher levels of debt than the company was comfortable with.
He also said he didn't expect any further bids. "I think it's over, is my point of view," he added.
KKR said in a statement that the company's management had "shown great capability and understanding of the business" and that it wished them well.
Disappointing sales
TWE has a turbulent history and is currently undergoing restructuring that will see 175 job cuts.
Last year, the firm sold 385 million bottles and recorded revenues of A$1.76bn.
TWE was formed in 1995 as the wine division of Australia's Foster's group
In June last year, the group was forced to destroy A$34m worth of unsellable wine.
The move was a result of disappointing sales in the US, where domestic crops performed well and where wine does not demand the premium price it does in Asia.
The firm has also seen disappointing results in Australia, with falling volumes domestically and lower-than-expected sales in China amid the government's austerity drive there.
On Monday, it said its performance for the year so far is "tracking ahead of plan" but did not provide any further details.