Blackberry growers in bumper harvest due to warm weather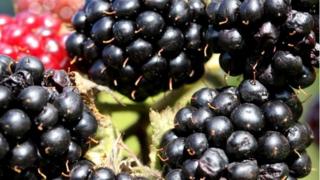 British blackberry growers are forecasting a bumper harvest this year.
The industry expects to grow 2,000 tonnes of the fruit, beating last year's production by 82%.
The market has grown more than 70% over the last decade, according to British Summer Fruits (BSF), the industry association.
And there is scope for further growth as commercial growers develop new snack-friendly "sweet-eating" varieties of the berry, it says.
High light levels, warm days and cooler nights have resulted in the fruits ripening a month earlier than usual, BSF says.
Growers have been experimenting with new varieties to extend the growing season, and the introduction of climate control technology has enabled production to extend into November.
Apples and pears
Other fruit growers are also experiencing bumper harvests, thanks to the fine weather.
Earlier this month, the trade body English Apples and Pears said apple growers were expecting a "delicious and juicy" early harvest, with some varieties ripening three weeks earlier than in 2013.
Shoppers can expect soon to see early croppers such as Galmac and Delbar Estival, with fruit including plums, cherries and pears also doing well.
A mild spring followed by recent sunny weather has created better conditions for growing apples, growers say.