Air France pilots continue strike after talks fail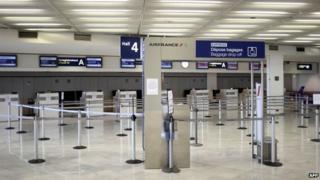 Air France says it will only operate 45% of its scheduled flights on Sunday after talks with pilots failed to produce an agreement to end a 14-day strike.
More than half of its pilots planned to strike, the airline said.
Pilots' union SNPL offered to end the strike late on Friday if an independent mediator between the two parties was appointed.
The airline said a mediator was not necessary.
"A mediator should intervene only if talks between the management and its union representatives fall apart," said an Air France spokeswoman.
"There are still talks."
French Prime Minister Manuel Valls also rejected the demand for a mediator.
Mr Valls has called for an end to the strike, calling it "intolerable for customers, intolerable for the company, and intolerable for the country's economy".
The government owns a 16% stake in the airline, which merged with Dutch carrier KLM in 2004.
The airline says the strike is costing it about 20m euros ($25.4; £15.6m) a day.
Budget competition
Pilots are angry about Air France's plans to develop its low-cost operation, Transavia, via regional hubs around Europe.
This is part of wider attempts by the airline to stem losses and compete with budget carriers such as Easyjet and Ryanair that have taken a large chunk of business from more established European carriers.
The company has since agreed to keep Transavia operations within France as a concession to the unions, but insists that it maintains the right to vary employment contracts for those working at the low-cost subsidiary.
It argues this is the only way it can compete with budget airlines.
The pilots are demanding that the same contract be offered to all pilots across all Air France's operations.