Phones 4U makes U-turn on iPhone 6 refunds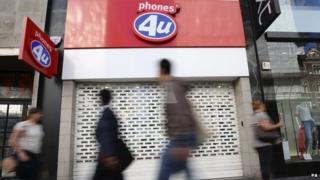 Customers who ordered the iPhone 6 from Phones 4U in the days before its administration have now been told they will not receive a refund.
At least 136 customers with outstanding orders were told by email on Thursday.
The announcement marks a U-turn by Phones 4U, which last week said it would cancel and refund the orders.
Phones 4U went into administration on 15 September, just three days after it began taking advance orders for the newly launched Apple handset.
"Further to the cancellation of your order with Phones 4U for an iPhone 6, we understand you may have incurred charges on your credit card prior to the appointment of the administrators," the email to customers reads.
"Unfortunately due to the situation, the administrators cannot process a refund."
Customers who made payments upfront with a credit card are advised to contact their credit card companies to try to get a refund. If that is not possible, they are told to file a claim with administrators, but are warned that this would "rank as an unsecured claim in the administration".
'Angry'
In a statement on its website, administrators PWC say that such claims are unlikely to result in refunds.
"Any payment, if made at all, would not be for many months and is likely to be negligible," it said.
The announcement came as a surprise to customers, who were initially assured they would receive refunds when Phones 4U entered administration on Monday last week.
One of those customers affected, Gavin Banks, told the BBC he had paid £99 upfront for an iPhone 6 contract with Vodafone, and the money had been debited from his account on 15 September, the day of the administration.
"I thought I would be refunded after speaking to people at the call centre for Phones 4U," he said. "I'm angry, £99 is a lot of money to lose for no product."
The email also provoked further anger from some of the customers affected, as it included the email addresses of all 136 recipients in the "send" field.
The email was sent from a Phones4U.co.uk email address.