House prices accelerated in August, says Land Registry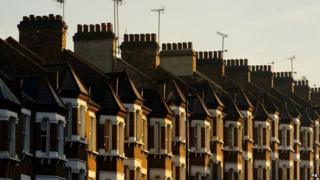 Annual house price growth accelerated to 8.4% in England and Wales in August - the highest rate of increase for nearly seven years, figures show.
The Land Registry said prices were up by 1% compared with July, with increases again driven by London.
The figures do not reflect some commentators' views of a housing market starting to cool.
But some areas, including Windsor and Maidenhead and South Yorkshire, have seen month-on-month falls.
The Land Registry said the average house price in England and Wales was now £177,824 compared with the peak of £181,383 in November 2007.
Over the last year, prices had risen by 21.6% in London. The slowest rate of increase was 3% in the North East of England.
House price calculator
Use our calculator to see where you can afford to rent or buy
These regional differences are a source of concern for some in the market.
"For prices to rise by nearly 3% in just one month alone shows the London market continues to defy gravity," said Jonathan Samuels, chief executive of Dragonfly Property Finance.
"Some areas of the UK are looking dangerously overpriced, while others are still very much flat and even in the red."
The Royal Institution of Chartered Surveyors recently suggested that the housing market reached a plateau in August, with prices softening in London as flats and houses had become more unaffordable. A similar view has been suggested by housing analysts Hometrack.
The figures come after the Office for National Statistics reported a 10.2% rise in UK house prices in the year to the end of July.
The data from the ONS lags behind some other house price surveys. Figures from the Halifax, based on its own lending data, suggested a slight slowdown in August, but the opposite was reported by its rival, the Nationwide.
'Rent trap'
Those who want to own a home, but are renting while saving for a deposit, are seeing the possibility of ownership moving further away, according to a housing charity.
Campbell Robb, of Shelter, said: "People across the country anxious to put down roots are instead finding themselves stuck in the 'rent trap' - moving from one expensive and unstable rental property to the next, with little hope of saving enough for a home of their own.
"Politicians need to start meeting people halfway by taking real action to build the affordable homes we desperately need."
The charity has highlighted government figures showing that a third of new homelessness cases were the result of landlords ending a private rental tenancy. Shelter said that private rental evictions became the main cause of homelessness for the first time in 2012.
On Friday, the government announced a plan to help tenants buy newly-built homes in England.
Under the Rent to Buy scheme, housing associations can bid for a share of £400m in loans to build new homes, mostly one and two-bedroom apartments, between 2015 and 2018.
Landlords must then charge below market rates for seven years to give time for tenants to save for a deposit.
The National Housing Federation said it welcomed schemes that encouraged new home building.