'Money challenge' as more hit 100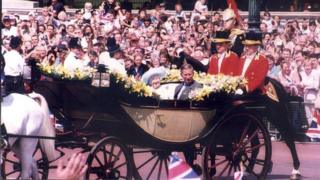 Policymakers face "huge challenges" in financing an ageing population, analysts say, as centenarian numbers in the UK hit a new record high.
There were an estimated 13,780 people aged 100 and over in the UK in 2013, figures from the Office for National Statistics (ONS) show.
That is up from 3,040 in 1983.
The number of centenarians is predicted to accelerate, prompting analysts to suggest people will need to work later and save more.
'Unpopular' answers
Better health and medical treatment have led to an ageing population in the UK.
This has also meant more men and women surviving to see their 100th birthday. The Department for Work and Pensions (DWP), which sends out congratulations cards to centenarians, said some had celebrated their big day with street parties, hot air balloon rides and even a pool party.
Those reaching their century now were born in the same year as Carry On star Charles Hawtrey, Dylan Thomas the poet, the actor Sir Alec Guinness and baseball legend Joe DiMaggio.
The ONS has predicted the number of people aged 100 and over will rise to 33,989 in 10 years' time, and then quicken to 83,940 a decade after that.
Tom McPhail, head of pensions research at Hargreaves Lansdown, said: "The extraordinary improvements in life expectancy present huge challenges for individuals and policymakers. Planning the transition from work to retirement needs to accommodate the expectation that at the age of 70, many of us will have another 20 or 30 years to live.
"The two most effective ways to deal with this are to work later and save more; neither of which is going to be universally popular, but there are not any easy answers to this challenge."
State pension
The state pension age is currently 65 for men, and it is in the process of being raised to that age for women as well.
Once that equalisation process finishes in 2018, it will then be raised by another year, to 66, between 2018 and 2020, before rising again to 67, between 2026 and 2028.
In his Autumn Statement last year, Chancellor George Osborne announced that it would now go up to 68 sometime in the mid-2030s, rather than between 2044 and 2046.
Pensions Minister Steve Webb said: "We remain committed that, as the nation's demographics change, the state pension will continue to provide a basic level of income, so people know their hard work over their lives is rewarded in retirement."
The UK is relatively high on a list ranking the number of residents who reach old age when compared internationally.
Japan had by far the highest number of people aged 90 and over per 100,000 population in 2013 at 1,266. After Japan, European countries, with the exception of former communist countries, topped the list.
Among European countries in 2013, Sweden and France had relatively high numbers of people aged 90 and over per 100,000 population, with 1,004 and 995 respectively.
Former communist countries in Europe tend to have lower numbers of people aged 90 and over per 100,000. Among these countries, Russia had the lowest proportion at 212, the ONS said.