Fall in bank complaints not enough for FCA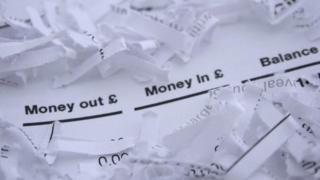 A UK finance regulator says "work needs to be done" by banks to cut complaints, despite a fall in the number of gripes in the first six months of the year.
The Financial Conduct Authority (FCA) said financial services companies needed to do more to ensure consumer interests came first.
The total number of complaints fell by 5% in the first six months of the year compared with the previous six months.
But that still amounts to nearly 13,000 complaints a day.
"It is important that firms now get on top of the issues that are driving complaints," said Christopher Woolard, the FCA's director of policy.
PPI peak
There were 2.36 million complaints received by UK financial services firms in the first half of the year, the FCA figures show.
Just over half of these were about payment protection insurance (PPI) - the loan insurance designed to cover loan repayments if the policyholder fell ill or lost their job, but which was mis-sold on a massive scale.
However, the number of PPI complaints now appears to have peaked, falling by 11% in the first half of the year compared with the previous six months.
James Daley, founder of consumer website Fairer Finance, said: "The industry needs to work on getting valid claims paid as quickly as possible, so that we can draw a line under this sorry chapter and begin to rebuild confidence in our financial system.
"Sadly, too many organisations are still dragging their heels when it comes to paying out valid claims - and hundreds of thousands of people are finding that even if they received compensation, they were not paid all that they were owed."
The other areas which prompted the most complaints were current accounts, general insurance, credit cards and savings.
Barclays recorded the highest number of complaints across all categories for an individual institution rather than a banking group.
The bank said complaints were prompted by a change of its policy on overdraft charges. Increased mortgage custom also led to more complaints. It also argued that dealing with complaints could take time if people got in touch online, as a secure channel needed to be found before a complaint could be dealt with properly.
"We are constantly making improvements to our day-to-day customer experience," said Matt Hammerstein, from Barclays.
Lloyds Bank recorded the highest number of complaints about general insurance - a category that includes PPI.