Monarch staff agree to pay cuts of up to 30%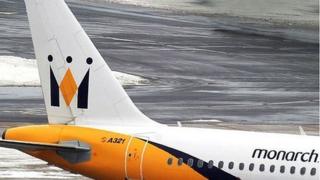 Monarch says its staff have agreed to pay cuts of up to 30% to secure the future of the airline.
It said its employees had voted overwhelmingly in favour of the plan, following discussions with unions.
Monarch's chief executive, Andrew Swaffield, said the vote was "a step forward" in the company's re-organisation.
On Tuesday the firm said it was in talks with investors Greybull Capital to sell a majority stake.
Mr Swaffield added that there were still "further hurdles to be overcome" but that the company had secured future investments from Greybull.
"This is firm progress for Monarch, its employees and for its customers," he said.
'Survive and thrive'
Jim McAuslan, General Secretary of the British Airline Pilots' Association (Balpa), said pilots had made "major sacrifices to secure the future of this important British company".
"We welcome the announcement that Greybull are moving towards securing their position as majority shareholders in Monarch," he said.
"It is now time for the government to engage with all of the parties concerned and do everything it can to make this deal happen and help Monarch survive and thrive."
Oliver Richardson from Unite, which has more than 1,000 members working at Monarch, said that while the discussions had been difficult, "it is clear they [Greybull] remain committed to the company".
He added that he would also be looking for assurances and commitments from the new investors and companies.
As part of the company's re-organisation plans some 900 jobs are likely to go, representing about 30% of its workforce.
Monarch is in the process of transforming itself from a charter carrier into a low-cost airline. It will concentrate on low-cost flights to Europe, competing with the likes of Ryanair and Easyjet.