Lancashire cricket club launches retail bond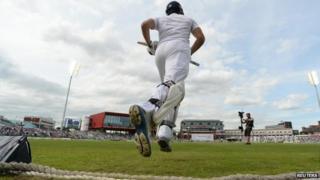 Investors are being invited to put money into a county cricket club in the latest launch of a retail bond.
Lancashire County Cricket Club hopes the move will allow it to raise £3m to build a new hotel at its Old Trafford ground, which also hosts Test Matches.
Retail bonds have been issued for private investors by various companies.
But analysts stress that these bonds are not risk-free investments, and are not covered by a savings safety net.
Protection
Lancashire CCC's Cricket Bond is open to investors willing to invest at least £1,000, with the money being locked away for five years.
Interest of 5% a year will be paid in cash, alongside 2% in vouchers that can be redeemed against tickets and hospitality products.
The club is raising the money because it wants to replace the existing Old Trafford Lodge with a new four-star hotel.
The returns are higher than the average rate on a savings account, but there is no protection from the Financial Services Compensation Scheme (FSCS). This safety net protects the first £85,000 of savings if a bank, building society, financial firm or credit union goes bust.
Retail bonds have been issued by companies including Severn Trent and Eddie Stobart.
Last year, the Jockey Club unveiled a Racecourse Bond, to raise funds for a grandstand development at the group's Cheltenham Racecourse.