Phone-hacking: Trinity Mirror admits liability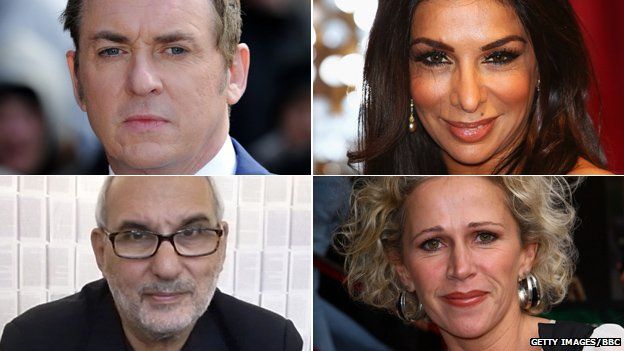 Trinity Mirror has admitted for the first time that some of its journalists were involved in phone hacking.
It admitted liability and will pay compensation to four people who sued for the alleged hacking of voicemails.
Entertainer Shane Richie, soap actresses Shobna Gulati and Lucy Benjamin and BBC creative director Alan Yentob also received an apology.
The company publishes titles including the Daily Mirror, Sunday Mirror and Sunday People.
Six other phone-hacking claims have already been settled.
They relate to former England manager Sven Goran Eriksson, footballer Garry Flitcroft, actor Christopher Eccleston, showbusiness agent Phil Dale, Richie's wife Christine Roche and Abbie Gibson, a former nanny of David and Victoria Beckham.
A further 19 claims are registered at the High Court and another 10 claimants have indicated they will bring proceedings against Trinity Mirror.
The company is thought to have set aside £8m to £9m to settle phone hacking claims and legal costs.
In its interim results in July, Trinity Mirror said it had put aside £4m to cover the cost of dealing with and resolving phone-hacking claims.
But it added, at the time, that it was too soon for a reliable estimate of the financial impact of the "ongoing historical legal issues".
Legal papers seen by the BBC show alleged hacking could have taken place as early as 1998 but that the bulk of the alleged wrongdoing took place in the early 2000s when Piers Morgan was Daily Mirror editor.
Mr Morgan was interviewed by police last year as part of Scotland Yard's ongoing investigation into alleged hacking at Mirror Group Newspapers. He has always denied any involvement in the practice.
Trinity Mirror said in a statement: "The company today confirms that its subsidiary MGN Ltd has admitted liability to four individuals who had sued MGN for alleged interception of their voicemails many years ago.
"MGN has apologised to those individuals and agreed to pay compensation. The amount of that compensation will be assessed by the court if it cannot be agreed.
"The company can also confirm that six other voicemail interception claims have already been settled for agreed sums."
It is thought former News of the World journalist Dan Evans may have hacked up to 400 victims while working at the Sunday Mirror.
He was given a suspended sentence after admitting two counts of phone hacking - one of which was at the Sunday Mirror - as well as making illegal payments to officials and perverting the course of justice.
BBC news correspondent Matt Prodger said the admission had not come as a surprise - due to the number of claims, the involvement of Evans and "the fact that it's unfeasible to believe that phone hacking only happened at one newspaper".
He added: "What is interesting about this is that these are civil claims, these are people suing the newspaper.
"It was civil claims which breached the defences of the News of the World publisher, News International."
Allegations of phone hacking at the News of the World led to a large-scale police investigation that uncovered many victims and led to the newspaper's closure.
It also prompted the Leveson Inquiry into press standards and regulation.
Labour MP Tom Watson, a leading campaigner on phone hacking, said: "The Mirror group have admitted to what has been suspected for some time - they used to hack phones too.
"Today's revelations only make the argument stronger that the Leveson recommendations should be implemented in full.
"The newspaper industry knows it has to rebuild trust. It's not going to do that with a half-hearted form of self-regulation that doesn't command the support of a number of national titles."
Related Internet Links
The BBC is not responsible for the content of external sites.