Starbucks to take control of Japanese unit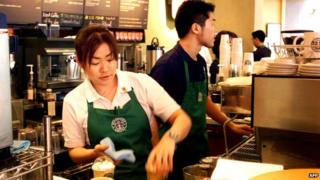 US coffee chain Starbucks is buying out its Japanese partner in a deal worth $914m (£559m).
Starbucks Japan has been a joint venture between Starbucks and Sazaby League since 1995.
Under the deal Starbucks will buy the 60.5% stake of the Japanese unit that it does not own. It hopes to complete the deal by the end of the year.
Japan is Starbucks' second biggest market in terms of sales and has some of its most profitable cafes.
In a statement, Howard Schultz, chairman of Starbucks Coffee Company said: "Nearly 20 years ago we opened the first Starbucks store outside of North America in Tokyo's Ginza district with lines around the block.
"Japan is a market we know well and care deeply about, with more than 25,000 partners serving millions of customers every week at more than 1,000 stores."
Expansion?
Taking full ownership of the coffee chain will give Starbucks the opportunity to expand its product sales through grocery stores and other outlets.
It currently has a small market share for its canned coffee and other ready-to-drink products in Japan.
Starbucks has roughly 1,050 cafes in Japan and their profit margins are among the highest in the world, despite Japan's sluggish economy.
The world's third largest economy is struggling to get back on the growth track, after nearly 20 years of falling prices, known as deflation.
Consumer confidence in Japan has also been hit by rise in sales tax in April.
The sales tax rose from 5% to 8% and the government will decide later this year about a further increase to 10%, to be implemented next year.