Striking Air France pilots protest in Paris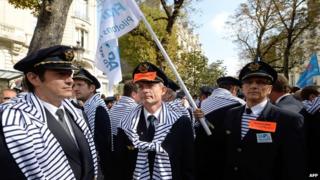 An estimated 200 pilots protested in Paris on Tuesday in a dispute over the company's plan to expand its low cost business.
Dressed in full uniform, the pilots gathered outside the National Assembly in Paris.
Pilots are in the second week of a strike that is scheduled to last until Friday, but could be extended.
Prime Minister Manuel Valls warned today that the strike is creating "real danger" for the airline.
"There is no reason for this strike.... It is jeopardising the image of France and represents a real danger for Air France," the Prime Minister told Europe 1 radio.
"This strike must stop. Management has made a number of proposals and it seems to me the conditions are in place for the positions of either side to come together," he said.
Earlier this month, Air France announced a plan to more than double the number of passengers carried on its budget airline Transavia by 2017, and expand its operations outside France.
In hubs outside France pilots are hired under local employment terms, which can be less generous than at core Air France operations.
Not acceptable
Pilot Alan Magi, who was at the protest said: "The number of people working for Air France is decreasing every year and there is no point building another company outside of France.
"This will not only cost pilot jobs in Air France ... that will kill Air France. We can't accept this.''
On Monday Air France offered to freeze plans to expand Transavia, but the pilots' union SNPL rejected that describing the move as a "smokescreen".