'Teachers not footballers' needed by Brazil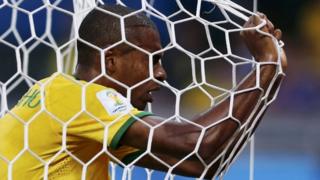 In the run up to this year's World Cup in Brazil there were protest banners reading: "Teachers are more important than footballers."
For Brazil, this is saying something. And when Brazilians go to the polls for the first round of the presidential elections this week, one of the main issues will be education.
There is a shortage of some 300,000 primary school teachers. At the other end of the education journey there is space for less than 20% of all students in Brazil's highly regarded public universities - the rest pay fees for qualifications of variable quality.
In the protests that have swept through Brazilian cities, education is a recurrent theme on placards and in social media.
Brazil's demand for education is driven by both the country's size and by the sustained economic growth through the presidency of Luiz Inácio Lula da Silva.
Brazil is the world's fifth largest country, both by geographical area and with its population of 200 million. Over the last decade, domestic production has increased by a third, raising the economic status of some 40 million Brazilians.
Testing the limits
This is driving a continuing demand for access to education at all levels, stretching current provision to the limits and testing domestic capacity.
As a result, Brazil is attracting growing interest from international education providers, particularly in higher education. But it is by no means certain that continuing growth will follow forms of internationalisation such as the competitive hubs in Dubai, Qatar, Hong Kong and Singapore.
As in so many other ways, internationalisation of the Brazilian knowledge economy could have a distinctive character of its own.
At the core of Brazil's higher education system are 100 state and federal public universities. All have high entry requirements and charge no fees. Competition for places is intense and increasing.
By next year it is estimated that Brazil will need capacity for 10 million higher education students in all. Because less than one in five will get into a public university there are now some 90 private universities and over 2,000 private higher education institutions that are recognised by the Ministry of Education and entitled to offer qualifications. Fees can be up to the equivalent of £1,000 per month.
An added twist comes from Brazil's affirmative action policies. Brazil is one of the most unequal countries in the world and its government requires publicly funded universities to set affirmative action targets at up to 50% of enrolments.
Poor quality
But because publicly provided schooling is of poor quality, applicants find it very difficult to meet public university entry requirements without private education. This is fuelling both a profitable private schooling sector and anger on the streets as Brazil's economic miracle continues to exclude the poor.
In the face of these challenges, there is an increasing openness to international participation. In the for-profit sector there is a growing market in mergers and acquisitions. While Brazilian law requires that education institutions must be majority Brazilian owned, US-based private universities are showing a growing interest in minority partnerships, attracted by the high fees and insatiable demand from affluent families.
The government has encouraged international participation through its Ciência sem Fronteiras (Science without Borders) programme.
This will provide 101,000 Brazilian students with full support for part study at universities around the world. To date, some 8,500 have registered at British universities. And Brazilian students know that a high level of competence in English is a pre-requisite for good jobs, whether in Brazil's major cities or abroad.
Coupled with growing overall demand, it is inevitable that Brazilian higher education will become ever-more international. But it is still not clear what form this internationalisation will take.
Given its sheer size, and the language barrier with the rest of Latin America, Brazil is a continent in itself. There are strong and continuing links with Portuguese-speaking African countries - Angola and Mozambique - and there are anecdotes of growing immigration from Portugal as southern Europe's economies continue in recession.
Social media
Brazilians are inveterate social media users; Brazil is a Facebook nation, with over 29 million subscribers and the highest current annual growth in sign-ups in the word, at 9.2%. And this is one of the most urbanised countries in the world, with 80% of Brazilians living in cities. Attitudes and choices are unpredictable, as has been shown in the run up to October's presidential election.
While incumbent Dilma Rousseff's government is in trouble she was, until recently, expected to win. But Marina Silva, the Green candidate for the Brazilian Socialist Party, from a dirt poor community in the Amazon, could take the prize.
The sense is that anything is possible, including new directions in international education as new generations of students assert their aspirations.
This combination of burgeoning demand and political complexity is stretching educational quality systems.
While the Ministry of Education tightly controls institutions' rights to award qualifications, the combination of 10 million students, the complex requirements imposed on state funded universities and well over 2,000 private, for-profit providers would tax any regulatory regime.
The result is an informal economy of knowledge across a grid of subject areas and institutions. Lists and league tables mean little and, outside the well-regarded public universities, reputation is based on a consensus across employers.
This is a red flag for international partner universities, wary of their own quality regulators.
Both German and French universities have a growing presence and several British universities are about to open offices in Brazilian cities. In July, Banco Santander hosted more than 1,000 university presidents, rectors and vice-chancellors in Rio de Janeiro, including 35 British vice-chancellors.
This will inevitably raise the interest of British universities in Brazil. But it will be an uncertain journey.
As the World Cup closed, Brazil's government announced a new education policy. By 2024, the National Education Plan aims to earmark 10% of Brazil's GDP. This would be the highest level in the world; the UK currently spends 6.2% of GDP on education, and the US 5.4%.
But this future will be uncertain, particularly as Brazil's many universities stretch out into the world.