Why Vanity Fair covers business stories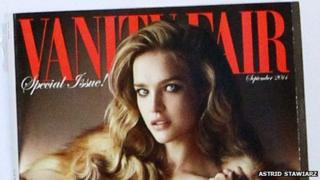 The glossy pages of the relentlessly celebrity-driven magazine Vanity Fair are a strange place to find really excellent reporting about business, but that is how it is.
In the October edition the editor Graydon Carter discloses at least one reason for this odd phenomenon.
Twenty years ago, just after he took over, there was a low ebb in the publication's fortunes. Circulation was sagging, advertising was down.
To cheer him up, Carter was taken out to lunch by the veteran author David Halberstam (who could himself turn in compelling business reporting, notably in the 1986 book The Reckoning about the rise of Japanese cars in the US).
And out of the lunch came an idea. A big shift was going on in American culture, from an industrial economy to one based on entertainment and technology.
This was in 1994, and out of that single observation from David Halberstam emerged an annual issue of Vanity Fair devoted to what the magazine called the "New Establishment".
Year after year, Vanity Fair has devoted one shiny issue a year to celebrating the new titans of the information age.
It ranks them (as American publications do), and charts the rises and falls of the new movers and shakers who have thoroughly disrupted the shape and reach of the old 20th Century economy, and continue to do so. Fascinating but a bit relentless.
At the same time the magazine has deployed writers such as Bethany McLean, Sarah Ellison, Walter Isaacson (the biographer of Steve Jobs), and Michael Lewis to write about business much more illuminatingly than most specialist business publications.
(The success of Vanity Fair's coverage may have prompted its proprietor into the hugely expensive venture of launching a new entirely business magazine Conde Nast Portfolio in 2007. That lasted just two years on the newsstands before being closed in April 2009.)
Hair raising
As well as the New Establishment list, the October 2014 Vanity Fair also carries an extraordinary and chilling article by William Langewiesche about the crash over the Atlantic of Air France flight 447 from Rio to Paris on 31 May 2009, in which 288 people died.
Using dialogue and data from the eventually retrieved black box of the Airbus A330, Mr Langewiesche chillingly reconstructs what happened when a brief loss of airspeed information overwhelmed the pilots who took back control from the automated flight system, and then did not know what to do.
Hair raising, but it is not a piece of business reporting. However, buried in the middle of it is a list of things that high technology enthusiasts ought to be very mindful of: Wiener's Laws.
The laws were put together many years ago by a professor at the University of Miami, Earl L Wiener. He was a former Nasa scientist who specialised in the study of human factor in automated tasks, a pioneer in aviation cockpit safety.
He once rode a unicycle over the Golden Gate Bridge in San Francisco to celebrate his 40th birthday; he died in 2013 at the age of 80.
Flying rules
Wiener's Laws apply first to aviation. But they are worth the attention of everyone involved with technology and its application.
I am indebted to Vanity Fair for drawing my attention to them, and maybe yours. Here they are to ponder:
Every device creates its own opportunity for human error
Exotic devices create exotic problems
Digital devices tune out small errors while creating opportunities for large errors
Complacency? Don't worry about it
In aviation, there is no problem so great or so complex that it cannot be blamed on the pilot
There is no simple solution out there waiting to be discovered, so don't waste your time searching for it
Invention is the mother of necessity
If at first you don't succeed... try a new system or a different approach
Some problems have no solution. If you encounter one of these, you can always convene a committee to revise some checklist
In God we trust. Everything else must be brought into your scan
It takes an airplane to bring out the worst in a pilot
Any pilot who can be replaced by a computer should be
Whenever you solve a problem you usually create one. You can only hope that the one you created is less critical than the one you eliminated
That last "law" in particular is very profound. It's an antidote to the relentless techno optimism they cultivate so assiduously in places such as Silicon Valley, California.
Where much of Vanity Fair's New Establishment comes from, of course.