Whistleblower in largest-ever award by US government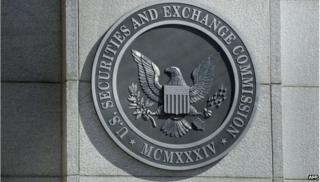 The US Securities and Exchange Commission (SEC) has revealed that it awarded a record $30m (£18m) payout to an anonymous whistleblower who lives outside the US.
It is the largest payment ever given to a whistleblower by regulators.
The SEC said the whistleblower provided crucial information that helped the agency uncover a "difficult to detect" fraud.
According to US law, the identity of the whistleblower must be kept secret.
"This award of more than $30m shows the international breadth of our whistleblower program as we effectively utilise valuable tips from anyone, anywhere to bring wrongdoers to justice," Sean McKessy, chief of the SEC's whistleblower office, said in a statement.
"Whistleblowers from all over the world should feel similarly incentivised to come forward with credible information about potential violations of the US securities laws."
New powers
The whistleblower programme is a direct result of the 2010 financial reform legislation in the US known as the Dodd-Frank Act.
That law gave the SEC more powers to incentivise insiders to come forward if they have information about wrongdoing. Prior to Dodd-Frank, the SEC could only reward tipsters who came forward with information about insider trading.
The new law provides whistleblowers with financial rewards if the information they provide to the SEC leads to an enforcement action with sanctions that are above $1m - regardless of the nature of the crime.
The SEC can then award the tipster anywhere between 10% and 30% of the total award.
Prior to the award announced on Monday, the largest ever whistleblower payout was $14m in 2013.