Striking Air France pilots reject offer to end dispute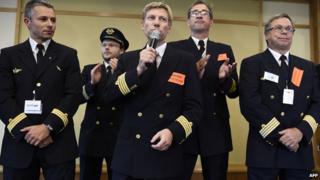 Air France pilots say they will pursue their strike indefinitely, rejecting the airline's offer to attempt to resolve the dispute.
Air France offered to suspend plans to expand its budget carrier Transavia.
But the pilots' SNPL union described that move as a "smokescreen" that offered no more guarantees than previous offers.
Air France's chief executive Alexandre de Juniac warned the strike could have "catastrophic consequences".
The eight-day-old strike is the airline's longest since 1998 and has been costing 15m euros (£11.8m; $19.3m) a day.
Jean-Louis Barber, head of the Air France section of the SNPL union said: "As long as management does not change its philosophy and as long as Air France management will not conduct real talks in a cooperative spirit to counter low-cost (airlines), Air France pilots will be on strike."
Mr de Juniac told Le Monde newspaper that the strike was "disastrous" for the airline.
He had hoped the delay in plans to expand the Transavia low-cost business would allow time for "a thorough dialogue".
But he added: "This arrangement must not call into question our ambition to develop Transavia, which is one of the key sources of growth for the Air France-KLM group."
'Obligatory move'
Pilots fear the expansion of Transavia will drive down their wages.
Earlier this month the company announced a plan to more the double then number of passengers carried by Transavia by 2017 and expand its operations outside France.
In hubs outside France pilots are hired under local employment terms, which can be less generous than at core Air France operations.
On Sunday, France's Transport Minister Alain Vidalies said the fate of Air France was "at stake" in the dispute.
"There must be a positive approach in this situation, otherwise I think that it's the fate of the company that could be at stake," Mr Vidalies told France Info radio.
"The low-cost [sector] is not a choice, it's an obligatory move, that's reality. I think pilots are fully aware of this," he said.
Air France said it expected to operate 41% of its flights on Monday.