Barclays technical fault leads to declined debit cards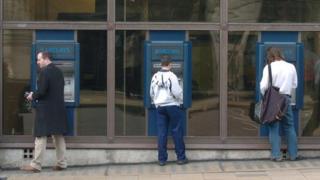 Customers of banking giant Barclays had their debit cards refused in stores and at ATMs on Monday after a temporary technical problem.
The bank said that the issue resulted in some card transactions failing but had now been resolved.
Customers have reported being stuck and unable to pay for supermarket shopping.
The bank said that it was also experiencing an influx of calls, and was working to reduce waiting times as quickly as possible.
Customers aired their complaints on social media, with some saying that cards were refused at cash machines and in stores.
The bank had conducted some maintenance work in the early hours of Sunday morning that resulted in the shutdown of online, telephone and mobile banking.
A spokesman said that the latest problem was a software issue unrelated to the maintenance work.
He said the problems lasted less than an hour and that branches were unaffected. He apologised to customers for the inconvenience.