Siemens buys US oil and gas firm Dresser-Rand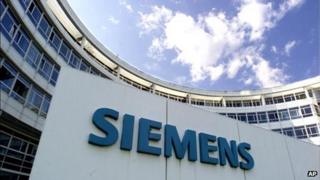 Siemens is buying US firm Dresser-Rand in a $7.6bn (£4.6bn) deal which will help the German conglomerate boost its oil and gas business in North America.
The American firm makes oilfield equipment and, under the deal, it will become "the platform for oil and gas equipment solutions within Siemens".
The German firm said its $83-a-share bid had been unanimously supported by Dresser-Rand's board of directors.
Siemens is hopeful the transaction will be completed by next summer.
The acquisition is subject to approval by Dresser-Rand shareholders, as well as approval from regulators in Europe and the US.
The deal gives Siemens access to the US oil industry at a time when a drilling boom for oil in North America has led to higher demand for energy services and equipment.
Siemens - Europe's largest engineering company - "plans to operate Dresser-Rand as the company's oil and gas business retaining the Dresser-Rand brand name and its executive leadership team", a statement issued by Dresser-Rand says.
"In addition, Siemens intends to maintain a significant presence in Houston, which will be the headquarters location of the oil and gas business of Siemens."
'Leveraging strengths'
In the statement, Lisa Davis, a member of the managing board of Siemens said: "Our aim is to become the leading rotating equipment and process system integrator for the oil and gas industry.
"Dresser-Rand has strong presence in oil and gas, a reputation for technology leadership and innovation, and a talented and experienced leadership team."
Dresser-Rand ranks among the world's largest suppliers of equipment to the global oil, gas, petrochemical and process industries.
The Houston-based firm has manufacturing facilities in France, United Kingdom, Spain, India and Brazil, as well as the US.
Siemens is best known for its work in electronics and electrical engineering, and it also has operations in the energy and healthcare industries.