EE in talks to buy Phones 4U stores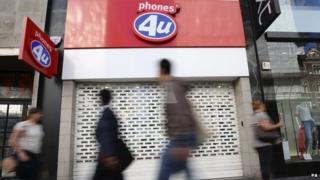 Mobile phone operator EE is in talks to take over stores from Phones 4U, which fell into administration last week.
EE would not confirm any details but it is thought the deal could involve up to 60 stores.
On Friday Vodafone agreed to take over 140 outlets.
Phones 4U collapsed when it failed to reach deals with EE and Vodafone to sell their services and those two firms last week had to deny claims they were behind Phones 4U's collapse.
As an independent retailer, Phones 4U relied on deals with EE and Vodafone to sell their services but both pulled out of negotiations to agree fresh contracts.
Phones 4U founder John Caudwell blamed the demise of the company on the "ruthless actions" of "predatory" mobile phone networks.
Mr Caudwell, who sold Phones 4U in 2006, told the BBC's Today programme last week that it was an "unprecedented assassination".
The mobile firms rejected his claim.
EE said its decision to end its relationship with Phones 4U was based on its strategy to focus on its own shops and cut out intermediaries, while Vodafone rejected an suggestion that it had acted inappropriately during contract negotiations.
Job losses
Mr Caudwell also criticised the private equity firm BC that owned Phones 4U for loading the retailer with more than £200m in debt.
Thousands of jobs remain at risk at Phones 4U, which had had more than 700 outlets and almost 5,600 staff.
Administrators PwC confirmed last week that 628 employees at Phones 4U head office in Newcastle-under-Lyme are losing their jobs.
EE said that it hoped to make an announcement about its deal with Phones 4U soon.