Microsoft cuts another 2,100 jobs as it nears 18,000 target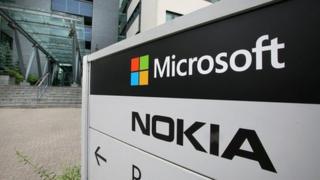 Microsoft has confirmed another 2,100 redundancies as part of a plan to cut 18,000 jobs, some 14% of its workforce.
The software giant said 747 jobs will go in the Seattle area, with the rest spread across its global operations.
Microsoft had already cut 13,000 jobs, with the bulk at the Nokia phone division bought by the US company.
In July, chief executive Satya Nadella announced radical plans to move Microsoft away from software to online services, apps and devices.
Microsoft, which has about 127,000 people on its payroll, will take a charge of between $1.1bn (£672m) and $1.6bn for costs related to the cuts.
Microsoft said in a statement that the latest cuts "are spread across many different business units, and many different countries".
In an email to staff in July, Mr Nadella said that the "difficult but necessary" cuts are part of a plan to bring a new direction to the technology company.
"The first step to building the right organisation for our ambitions is to realign our workforce," he said.
Microsoft completed its takeover of Nokia's phone division in April in a move that strengthened its position in mobile devices. The cost was around $7.5bn.