Car tax disc changes prompt clash between RAC and DVLA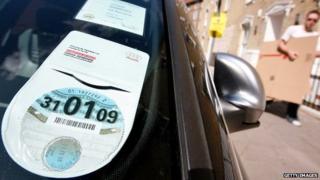 Motorists' organisation the RAC and the DVLA have clashed over the policing of car tax amid changes to the system.
The paper system of tax discs will be replaced by an electronic system on 1 October.
The RAC has claimed that the change will result in extra tax evasion amounting to about £167m a year.
But the DVLA said that it was "nonsense" to suggest the change to an automated system would lead to an increase in evasion.
'Proven record'
The disc was introduced in 1921, but DVLA officials say it is no longer needed, with the DVLA and police now relying on an electronic register and automatic number plate recognition.
All motorists will no longer need to display the disc in their vehicle's windscreen from 1 October, so existing discs can be removed.
Under the new system, drivers will also be able to pay their tax by monthly direct debit. Buyers of used vehicles will have to renew the tax when the car is bought.
A survey by the RAC of more than 2,000 drivers showed that 36% were unaware of the scrapping of the paper disc, while 47% did not know when the change was due to take effect.
The poll also showed that 63% feared there would be a rise in the number of untaxed cars on the road.
David Bizley, the RAC's chief engineer, said: "We could be looking at around £167m of lost revenues to the Treasury, far exceeding the £10m that will be saved by no longer having to print tax discs and post them to vehicle owners."
But a DVLA spokesman said: "There is absolutely no basis to these figures and it is nonsense to suggest that getting rid of the tax disc will lead to an increase in vehicle tax evasion. We have a proven track record in making vehicle tax easy to pay but hard to avoid, with over 99% of all vehicles taxed."
Oliver Morley, chief executive of the DVLA, argued that there was no requirement for a TV licence to be displayed in a window at home, but the system was still policed, so the same theory would hold for car tax.
He said it would be a simple task for the public to check online to see whether a vehicle has been taxed.
Vehicle tax was introduced in the 1888 Budget and the system of excise duty applying specifically to motor vehicles was introduced with the Roads Act 1920, with the tax disc appearing the following year.