Japan trade deficit narrows in August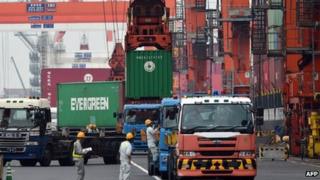 Japan's trade deficit narrowed in August as a fall in imports lowered the country's energy bill for the month.
The shortfall between imports and exports shrank to 948.5bn yen ($8.7bn; £5.4bn) 2.4% lower than in July.
The country's imports fell by 1.5% in August from the year before, as the country bought less crude oil and liquefied natural gas.
Japan's energy bill has been the main reason for its ballooning trade deficit since 2011.
In March of that year, the twin disasters of an earthquake and a tsunami led to meltdowns at a nuclear plant in Fukushima.
Before the tragedy, nuclear plants supplied about 30% of Japan's power.
Japan has posted a trade deficit for the last 26 months.
The trade data also showed a decline in exports in August, by 1.3% when compared to the previous year.
That's a reverse from the near 4% year-on-year increase in exports in July.
Future growth?
The fall in exports, which is being blamed on weak external demand, is causing concern over Japan's economic prospects.
The world's third largest economy has been struggling to return to growth since a consumption tax hike earlier this year led to a slowdown in domestic consumption and retail sales.
In April the government hiked the sales tax to 8% from 5%, in an effort to beat deflation.
It is also designed to raise revenues to fund the increasing welfare costs of Japan's ageing population.
Japan's latest growth figures from earlier this month showed the economy shrank 1.8% in the April-to-June period, worse than forecast and prompting more doubts over the direction of the government's economic policy.
The official data confirmed that the world's third largest economy suffered its sharpest quarterly contraction since the 2011 earthquake disaster.
If taken on an annualised basis that would mean gross domestic product (GDP) shrank 7.1%.
However, in the first quarter of 2014, the economy grew by 1.5%.
The rise in the sales tax is being blamed as the single biggest factor behind the contraction.
There are now calls for Prime Minister Shinzo Abe to delay a further rise in the consumption tax planned for next year, while the central bank is facing fresh demands to expand its stimulus programme.