European Union car sales continue recovery as VW shines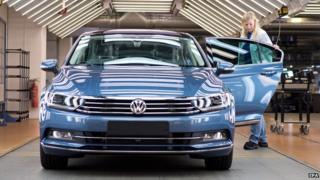 European Union new car registrations showed continued signs of recovery in July and August, industry figures show.
Sales of new cars were 5.6% higher in July compared to the same month last year, and 2.1% up in August, the Association of European Automobile Manufacturers (ACEA) said.
France was the only market to contract in July, with sales falling 4.3%.
But in August, even Germany, the EU's leading market, saw sales fall 0.4% compared to the same month last year.
Overall, sales grew 6% in the first eight months of the year, said ACEA, "continuing the upward trend that began 12 months ago".
This equates to 8,336,159 new car registrations over the period.
VW group, comprising Volkswagen, Audi, Seat and Skoda, led the leader board, accounting for 25.4% of total sales between January to August.
In second place, the PSA Group, comprising Peugeot and Citroen, achieved an 11.1% market share over the same period, with sales rising 3.9%.
Adding to the sense of a French automotive renaissance, Renault sales rose 15.3% over the same period, and its market share rose from 8.6% to 9.4%.
Dacia sales, its Romanian low-cost brand, leapt 20.8% in July, before falling back to a 2.7% rise in August.
European car manufacturers were hard hit during the global financial crises as consumer spending all but evaporated. However in the last year the industry has begun to recover.
But in the UK, where car sales have been comparatively strong and the economy has been outperforming its continental neighbours, sales grew by 6.6% in July and 9.4% in August.