US consumer prices fall in August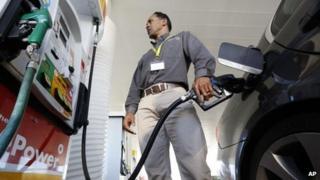 US consumer prices fell in August for the first time since April 2013, Labor Department figures show.
The Consumer Price Index declined 0.2% last month, following an increase of 0.1% in July.
Petrol prices fell 4.1% in August, more than offsetting a 0.2% increase in food prices driven by the continuing effects of a drought in California.
Despite August's decrease, consumer prices are now 1.7% higher than they were a year ago.
In July, the annual rate of inflation was 2%.
Declines in the prices of air fares, home furnishings, used cars and clothes all helped to drive the index down, but new vehicles and alcoholic drinks were more expensive.
The figures were released as policymakers at the US central bank, the Federal Reserve, prepared to release a statement at the end of their latest two-day meeting.
The Fed is expected to provide some indication of how soon it may raise interest rates from their present near-zero level, which has been maintained since December 2008.
At present, most analysts reckon the move will come in the second half of 2015.
The Fed has an inflation target of 2%, although this is based on a different measure of inflation which is currently even lower than the CPI rate.