Bank split 7-2 on interest rate rise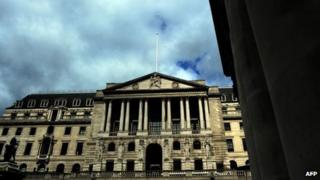 The Bank of England's Monetary Policy Committee (MPC) was divided for the second consecutive month over interest rate policy, latest minutes show.
At the meeting on 3-4 September, Ian McCafferty and Martin Weale voted to raise rates to 0.75% from 0.5%, as they had in August.
It means the nine-member MPC voted 7-2 to hold interest rates at their historic low of 0.5%.
Interest rates have been unchanged since March 2009.
Before last month's meeting, there had not been a split on the MPC since July 2011.
"There seems to be very little in the short term that would necessitate an interest rate rise. It would be no surprise if a rate rise moves back to later in 2015," said Peter Hemington, a partner at BDO LLP.
"But there is an aura of uncertainty around interest rates at the moment. The views of economists as to when a rate rise will occur vary enormously and this is reflected in [the MPC's] 7-2 split."