Japan's Pioneer sells DJ equipment unit to KKR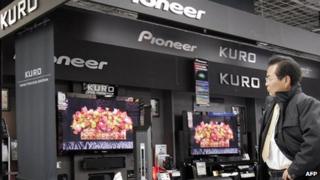 Japan's Pioneer is restructuring and selling off its disc-jockeying (DJ) equipment unit to US private equity firm KKR for $550m (£339m).
As part of the deal, KKR and Pioneer will be joint owners, with the Japanese firm having a 15% stake.
Both KKR and Pioneer have given their new venture a provisional name of Pioneer DJ.
The Japanese firm has been selling off non-core assets to focus on its automotive electronics business.
In a statement which accompanied the announcement, Susumu Kotani, president of Pioneer, said: "As we accelerate our efforts to concentrate management resources on our car electronics business, Pioneer has been seeking the optimal partner to further the globalisation of our DJ equipment business and expand the brand."
Mr Kotani added: "KKR has a wealth of experience in the technology and media industry globally, and we are confident it has the expertise to drive Pioneer DJ forward.
Pioneer will retain 14.95% of the voting rights in Pioneer DJ and we will maintain a framework for cooperation to ensure the future growth of the company."
Pioneer's DJ equipment business develops, manufactures and sells equipment for DJs, including DJ players, mixers, controllers, headphones and speakers.
KKR is a global investment firm that manages investments across various asset classes, including private equity, energy, infrastructure and real estate.
The deal is subject to approval by the relevant authorities. Both sides expect the transaction to be completed by March next year.
Pioneer shares were up by as much as 6% in early trade in Tokyo, while the main Nikkei index was up by around 0.1%.
Last week Pioneer said it would be selling its home audio-visual business to another Japanese firm - audio equipment maker Onkyo.