Betfair pays out early to gamblers backing 'No' vote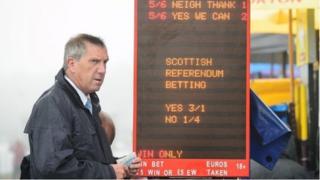 Online bookmaker Betfair says it has already paid some of its customers backing a "No" vote in Thursday's referendum on Scottish independence.
The firm said it had paid out a "substantial six figure sum" despite polls suggesting the result is close.
"We've decided that 'no' is most likely to be the winning vote in 3 days' time, so we've put our money where our mouth is," Betfair said.
It said betting patterns on its site suggested a 79% chance of a "No" vote.
The early payout only applies to Betfair's sportsbook operation where the firm sets the odds itself. It doesn't apply to its online exchange where customers bet against each other.
Thursday's vote has attracted high levels of interest from gamblers.
Betfair rival William Hill estimates the industry as a whole will take £10m ($16m) worth of bets on the vote, equivalent to the total taken on a high profile English Premier League football match.
Opinion polls suggest the vote in Scotland will be very close.
Three new polls, one by Opinium for the Daily Telegraph, another by ICM for the Scotsman and a third by Survation for the Daily Mail, were published on Tuesday evening.
With undecided voters excluded, they all suggested a lead for "No" of 52% to 48%.